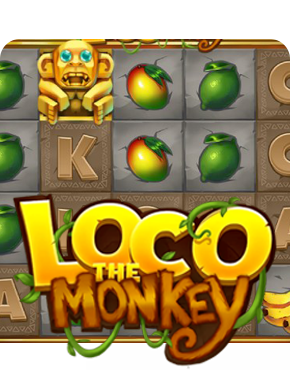 Loco the Monkey Slot Review
Loco the Monkey was released early in 2021 by the Swedish slotting experts Quickspin. This very colourful slot not only has a loveable central character, but it also has several rewarding features and an excellent RTP of 96.15%.
Software provider
Quickspin
Play Loco the Monkey at these suggested casinos
Loco is the latest monkey hero to enter the slotting universe, and indeed the brains who create slot machines seem to have something of an obsession with monkey-based slots. One of the most famous monkey slots of all time is Mad Mad Monkey from NextGen Gaming, plus there's Monkey's Gold from Nolimit City and the Legend of the Golden Monkey from Yggdrasil Gaming.
Quickspin has got their species-identification right and Loco is most definitely a monkey and not – as some other slots have mistakenly misidentified their monkey hero – an ape. How do you tell a monkey from an ape? It's simple – monkeys have tails, while apes do not.
Here endeth today's WhichBingo zoology lesson. Now we can get on and discuss the ins and out of this monkey-themed Quickspin slot.
How to Play
If you've played a Quickspin slot before then you will instantly recognise the slotting interface for Loco the Monkey. To get things started, or rather the reels rolling, you just need to adjust your total bet to set the size of your wager. This is a one free per spin slot, and your total bet can be anything from £0.25 up to £100.
The game here has an extra dimension as it has four rows instead of the normal three, but it still has five reels. This is not an 'all ways pay' slot – there are a fixed number of paylines at fifty. When you are ready to go a little loco, hit the spin button.
Wins are paid in the normal fashion – a sequence of identical symbols across the reels on a payline commencing from the left-hand reel. The maximum wins from each symbol is as follows:
5 x Bunch of Bananas = 10 x bet (max £1,000)
5 x Pineapples = 4 x bet (max £400)
5 x Flowers = 3 x bet (max £300)
5 x Green Fruits = 3 x bet (max £300)
5 x Apples = 3 x bet (max £300)
5 x Aces = 2 x bet (max £200)
5 x Kings = 2 x bet (max £200)
5 x Queens = 2 x bet (max £200)
5 x Jacks = 2 x bet (max £200)
5 x Tens = 1.6 x bet (max £160)
5 x Nines = 1.6 x bet (max £160)
Jackpot
There is no jackpot as such, but you can still win up to 6,829 times the size of your bet. This is the maximum win that's achievable while playing Loco the Monkey.
Bonus Features
Wild Symbols
Loco himself stars as the wild symbol for the game. He does not appear on the left-hand reel though and does not have a coin value for wins that contain only wilds.
Bonus Scatters
A golden monkey statuette acts as the bonus scatter in this game. These symbols are only present on the first three reels, though. You need to land three bonus scatters or more on the same spin to trigger Monkey Frenzy! Free Spins. If you land three bonus scatters during your free spins then five additional spins are added to your free spins tally.
More Monkeys! Respins
If you land four or more wilds on any one spin while playing this game you trigger the More Monkeys! Respins feature. The wilds that triggered the win remain in position and all but the first reel are spun again. Any further wilds that land become sticky too. Respins continue until you encounter a spin where no wilds land, at which point the reels are evaluated for wins. You cannot trigger free spins during a respin.
Monkey Frenzy! Free Spins
You are initially awarded ten free spins. All wilds become locked during free spins and any further wilds that land on top of locked wilds increases that wild's multiplier value up to a maximum of x3. Any wins that contain wilds are multiplied by the wild's current multiplier value. Wild multipliers can be combined.
Graphics and Sounds
Players who are already familiar with Quickspin's range of excellent slots will recognise the high quality of the cartoon-style graphics used in Loco the Monkey. The gameplay is smooth and speedy but there is little animation – except for Loco performing this 'cross eyed' thing whenever and wherever he lands (and it gets worse during Monkey Frenzy! Free Spins, as Loco seems intent on hypnotising you!).
The style of music Quickspin have chosen for this game will come as no surprise – it's a jungle soundtrack common in any type of slot that has any kind of jungle theme. The other sounds are just the clicking of the reels and the typical fanfares whenever a win is achieved.
Conclusion
As you've probably guessed, this slot may be a little 'triggering'. 'Loco' is a slang term for mentally disordered, and when coupled with Loco the Monkey's frequent eye-crossing, it's clear to see Quickspin are pitching Loco as being a bit bonkers. It's hardly 'woke' for 2021 but as Loco is a cartoon monkey, it's not worth getting worked up about.
Loco the Monkey the slot is a fine example of what Quickspin do best – a game that's easy to play with good features that's rendered graphically in a superb way. We've seen better slots from the Swedes, but this is still a pleasant game to play.
Why not see if you'll go bananas over Loco the Monkey at one of WhichBingo's recommended slots, casino or bingo sites?