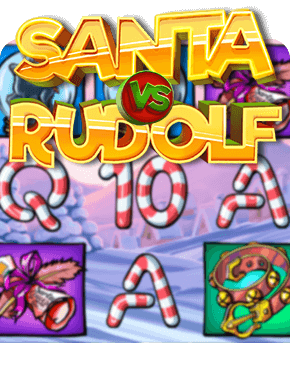 Santa vs Rudolph Slot Review
It wouldn't be Christmas without chestnuts roasting on an open fire, the John Lewis Christmas ad or a festively-themed online video slots release by NetEnt. Thankfully, all three boxes have been ticked with the recent release for the festive period of NetEnt's latest Crimbo-blockbuster, Santa vs Rudolph.
Play Santa vs Rudolph at these suggested casinos
The main feature of this game is the clash of the wilds, in which Santa Wilds and Rudolph Wilds come together to settle the age-old question of whom is better, a white-bearded fat man in a silly red suit whom only works on one day a year, or a be-antlered wild animal with a colourful conk? The only way to find out is to play this crazy game from the world's number one slot provider.
The rest of this slot features a 'winter wonderland' background with suitably festive symbols such as presents, Santa's sleigh, a belt of bells and playing card symbols ten to ace as candy canes.
How to Play
Santa vs Rudolph is a 5-reel, 3-row slot with 20 bet lines. This is a fixed number, although as lines 'win both ways' there are in fact 40 possible winning bet lines. You can choose your coin size per spin, which can be anything from 0.01 to 20.00. Your total bet is your coin size multiplied by 20, as there are 20 bet lines. All prizes are paid as multiplies of your coin size. All paytable wins are for three or more identical symbols in sequence, starting from either the left-hand side (Santa's side) or the right (Rudolph's).
The Santa Wild (reel one only) and the Rudolph Wild (reel five only) are both wild and substitute for all other symbols. While a wild in on the reels all spins are bonus spins. As you spin, the wild moves one reel along per spin until it reaches the final reel when it then disappears. During bonus spins, the wilds can appear on any reel.
5 x Sleigh symbols = 500 coins (max £10,000)
5 x Presents symbols = 400 coins (max £8,000)
5 x Belt symbols = 300 coins (max £6,000)
5 x Snow Globe symbols = 200 coins (max £4,000)
5 x Scroll symbols = 150 coins (max £3,000)
5 x Ace symbols = 100 coins (max £2,000)
5 x King symbols = 75 coins (max £1,500)
5 x Queen symbols = 60 coins (max £1,200)
5 x Jack symbols = 60 coins (max £1,200)
5 x Ten symbols = 60 coins (max £1,200)
Jackpot
This game does not have a progressive jackpot. As far as we could work out, the maximum prize you can win while playing this game is for five Sleigh symbols with a 4x multiplier, which would win 2,000 coins (max £40,000).
Special Features
Bonus Spins
Bonus spins are triggered when a Rudolph Wild and a Santa Wild clash on their journeys across the reels and end up at the same spot. This triggers ten bonus spins with wilds on all reels, and not just the outside two. Bonus spins can be retriggered during this round, up to a maximum of 30.
Rudolph Spins
During bonus spins a meter appears that keeps count of the number of Rudolph Wilds which appear. If the meter reaches eight, then Rudolph Spins are triggered.
Once your bonus spins have completed Rudolph Spins will begin if the extra bonus feature was triggered. You will receive three further bonus spins where each spin has five Rudolph wilds.
Santa's Presents
This feature is triggered during bonus spins in the same way that Rudolph Spins are triggered, except that the number of Santa Wilds are counted.
The player must now select from five presents. Three presents contain a coin value, one a multiplier and the last an 'end feature' symbol. Coin values are added to the player's win for the feature. The multiplier edges the multiplier along one value until it reaches the maximum of x4. The 'end feature' ends the extra bonus round – the total coin value is multiplied by the multiplier value to give the total prize win.
Graphics and Sounds
NetEnt has gone down the cartoon route with this game, and it's a very wise decision. Santa stands on the left of the playing board looking very perturbed (we think that's because Rudolph has stolen his hat) while Rudolph stands on the right looking very assured of himself.
The music isn't exactly a Christmas Carol, but it's effective enough. It sounds like the background music from a 1980s Christmas movie, but don't worry if that sounds cheesier than a cheese sandwich covered in cheese sauce then sprinkled with parmesan, as you can mute it. The reset of the SoundFX all adds to the game's excellence.
Conclusion
It is so nice of NetEnt to present us with an early Christmas gift. This is a wonderful game to play at any time of the year, and not just when the goose is in need of going on a diet. It's yet another example from the Swedish slotting masters of how to do slots – keep the gameplay simple yet varied and you're sure to have yet another winner on your hands.
Why not give yourself a Christmas bonus on any day of the year with a few spins of this enchanting slot from NetEnt? Don't forget to play at one of the online casinos that we recommend to you here at WhichBingo!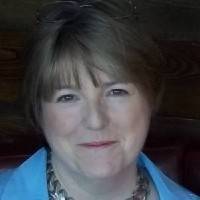 Author And Contributing Editor
Anita is a well-known bingo-lover and has been involved with online bingo since the late 1990's. She has been along for the ride and seen the industry grow and develop into what it is today. She has worked with the biggest names in the industry and has a reputation for being fair and to the point in her writing.