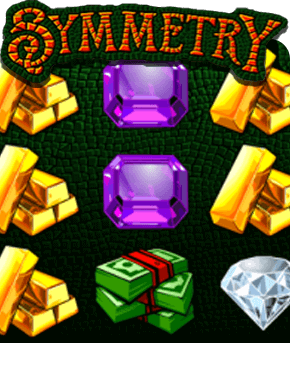 Symmetry Slot Review
Volatility:
Medium to High
Symmetry by Realistic Games is at first glance a relatively straightforward game, but it also has some unusual gameplay features and bonus rounds that make it more than a run-of-the-mill slot.
Software provider
Realistic Games
Play Symmetry at these suggested casinos
The game is well designed, with parallax reels set against a background of a mosaic floor, and while it's not in any way groundbreaking visually, the gameplay is fast-paced enough to ensure that it is always engaging.
One of the most unusual features of the game is the way that the 10 paylines are configured — three symbols in a row anywhere on a payline will pay out — plus the fact that there are no wild or scatter symbols, but this is more than made up for by the addition of two bonus rounds with the potential for big wins.
Overall, this is a quick-moving, medium to high volatility game that we recommend you try for yourself at one of our featured UK slot sites.
How to play
Symmetry is 5 reel, 3-row video slot where all ten paylines are automatically in play on every spin. Wins pay out when you hit three or more consecutive symbols anywhere on a payline, i.e., on reels 1, 2 and 3, reels 2, 3 and 4 or reels 3, 4 and 5. All wins are multiples of the total bet, with a minimum wager of £0.10 and a maximum bet of £200, and all symbols can appear stacked on every reel.
Hitting 5x Jackpot symbols = 25x total bet (up to £5,000)
Hitting 5x Lucky 7 symbols = 15x total bet (up to £3,000)
Hitting 5x gold bar symbols = 10x total bet (up to £2,000)
Hitting 5x cash symbols = 10x total bet (up to £2,000)
Hitting 5x diamond symbols = 5x total bet (up to £1,000)
Hitting 5x ruby symbols = 5x total bet (up to £1,000)
Hitting 5x sapphire symbols = 2.5x total bet (up to £500)
Hitting 5x amethyst symbols = 2.5x total bet (up to £500)
The Bonus Round is triggered by hitting stacked symbols on all 5 reels, while the Symmetry Bonus is activated by hitting the same stacked symbol on reels 1 and 5, with another on reels 2 and 4.
Jackpot
The biggest jackpot that will be paid out on Symmetry is 500x total bet (£100,000 when betting the max).
This is a medium to high volatility slot, with a 95.56% RTP.
Special features
Bonus Round
The Bonus Round is triggered when you hit a stacked symbol on all 5 reels. Before the round begins, you click the start button to randomly select one of the reels. All of the other reels then re-spin, and will land showing either 1, 2 or 3 of the selected symbol, creating the potential for winning combinations on all 10 paylines (i.e., a full house).
Symmetry Bonus
The Symmetry Bonus is triggered by activating the Bonus Round with a symmetrical pattern, i.e. the same stacked symbol appears on reels 1 and 5, with another on reels 2 and 4. When this happens, you are guaranteed to hit a full house, i.e., the same symbol on all ten paylines.
Graphics and Sounds
Symmetry is a well-designed game that is engaging without being particularly stunning visually. The parallax reels look good, with the brightly coloured symbols (which are fairly conventional precious gems, gold bars, piles of cash, Lucky 7, etc.) standing out against the sombre coloured, Roman-style mosaic floor. Winning spins are accompanied by lively animations, which adds to the overall visual appeal.
The music and sound effects, however, are somewhat nondescript and don't really match the theme or symbols, nor add anything to the overall gaming experience.
Conclusion
Overall, Symmetry is an enjoyable slot game that has enough interesting and innovative features to make it more engaging than it may at first appear. The unusual payout configuration certainly adds to the game, while the bonus rounds are relatively simple but provide an additional, potentially lucrative element to the gameplay. It has to be said that this is probably not the most visually exciting slot you'll ever play, although it is well designed and has some attractive features, while the speed of the gameplay ensures that it will always hold your interest. It is the sort of game that players of all experience levels will feel comfortable playing.
Symmetry is in our view one of the most enjoyable slots in the Realistic Games catalogue, and we recommend that you check it out for yourself at one of our featured UK online casinos.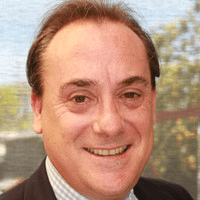 Author
Mark Angus is a professional writer and editor currently based in Adelaide and London. Mark writes on a variety of sports betting and gaming topics, most notably football and cricket (he has been a season ticket holder at Fulham for far too many years), as well as horse racing, in particular jumps racing. In addition, Mark produces website content, blogs and articles for a variety of publications, organisations and businesses, and has extensive experience in writing for all forms of online, print and broadcast media.