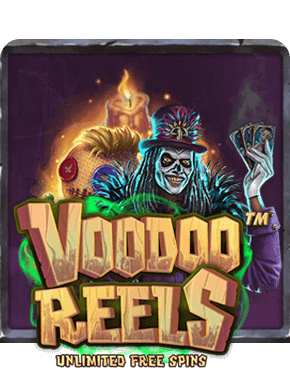 Voodoo Reels
It's time to get very spooky and definitely creepy with this online slot that's been created to great effect by the good people at Stakelogic. We are delving into the realms of witchcraft slightly as the theme of this game – as you would have guessed via the name – is the creepy practise of voodoo.
Play Voodoo Reels at these suggested casinos
Do you do know what voodoo is? You do? Then good … but for those you who don't here is a brief explanation. Voodoo originated in Haiti, which is a Caribbean island. It's a kind of magic associated with the control of people. Two of the most popular beliefs included the taking over of the recently deceased (who would rise up again to become mindless zombies or – as we now call them in this day and age – reality TV show contestants) and the second was the creation of voodoo dolls.
A voodoo doll was the representation of a living person in miniature form which the voodoo practitioner would then link to the real person's body without the victim knowing it. Things could then be done to this doll that would be felt by the victim. For example, if a pin was stuck into the doll's foot then the real person would feel pain there, and if the doll was thrown onto a fire the victim would feel blinding, burning pain.
The voodoo in this game is based on the branch of voodoo based in Louisiana in the USA, and not Haiti.
How to Play
The entertainment with this creepy slot begins when you choose your bet. The minimum this can be is £0.10, and the maximum is £100. This slot also has Stakelogic's "Super Stake' feature where you can make a side bet that increases the chances of bonus features being triggered however, this feature is likely to be unavailable for players in the UK because of UKGC regulations.
This game have five reels and three rows but only ten paylines which is a bit tight for a game created in 2020. Happily, there are many other features which more than make up for this lack of paylines.
The majority of the symbols used are playing card symbols ten through to ace, but there are plenty of other creepy symbols too.
To earn a win you need to land either three, four or five identical symbols in sequence across the reels. The first symbol in the winning sequence must be in the left-hand reel.
Maximum wins are as follows:
5 x Wilds = 500 x bet (max £50,000)
5 x Voodoo Dudes = 50 x bet (max £5,000)
5 x Skulls = 30 x bet (max £3,000)
5 x Candles = 15 x bet (max £1,500)
5 x Voodoo Crosses = 15 x bet (max £1,500)
5 x Aces = 6 x bet (max £600)
5 x Kings = 4 x bet (max £400)
5 x Queens = 4 x bet (max £400)
5 x Jacks = 2 x bet (max £200)
5 x Tens = 2 x bet (max £200)
Jackpot
The one 'not very spooky' aspect of this game is that it does not have any kind of progressive jackpot attached to it. The most you can win is 5,000 times the size of your stake, so that is £500,000 if you bet at the maximum stake level.
Bonus Features
As usual with online slots this game has both wild symbols and scatter symbols. The wild symbol substitutes for all other symbols aside from the scatter symbol, the yarn ball symbol and the voodoo symbol. You can also win payouts if you land a sequence of wilds on a payline, from two to five. The scatter symbol will land you free spins. If you land three scatters you earn six free spins and a bonus two free spins for every extra scatter landed up to the maximum of ten free spins. Free spins cannot be retriggered.
Colossal Symbols
During free spins colossal symbols are added to the central three reels. These are symbols that are 3×3 in size and in effect act as nine identical symbols.
Unlimited Free Spins
Once you have completed your free spins then unlimited free spins come into effect. You will continue to receive free spins until you have collected three yarn ball symbols that only appear on the outer two reels. Colossal symbols continue on the reels. When you collect a yarn ball symbol a wild symbol replaces it.
Yarn Ball Symbols
During the base game yarn ball symbols are collected too. Once you have collected six yarn ball symbols you enter the 'pick and click' game. Three voodoo dolls appear and you are requested to select one, revealing one of the three bonus features below:
Wild Mixer: You are awarded three respins with between two and six wilds added to the reels
Sticky Voodoo: You are awarded three respins with one random sticky symbol. This and all subsequently identical symbols are sticky for all three respins.
Free Spins: You are awarded six free spins with the same 'rules' as when you gain them via scatters.
Graphics and Sounds
The music used by this slot kind of reminds us more of Halloween than anything else. If you are a fan of early Tim Burton films then you will recognise the thumping theme as Burton's composer-of-choice Danny Elfman uses it a lot. One oddity – in the version of Voodoo Reels we played the music just stopped after one play-through. We assumed it would be on a loop. The rest of the sounds are the clicks of the reels and trings when you win (or have a near miss).
Aside from the spinning of the reels the symbols are largely static. Some of them do glow a bit and there's a bit of green smoke when you land a feature. This is not a game bathed in eye candy but it's still a decent-enough one.
Conclusion
Do you like voodoo slots? You do? Then the voodoo with Voodoo Reels should have you doing a few silky moves, especially of you become a big winner. The game has some nice features (and we assume the music bug will be fixed) and looks decent enough.
Go spin some voodoo with Voodoo Reels at any Which Bingo-recommended bingo or slots site that carries Stakelogic's games.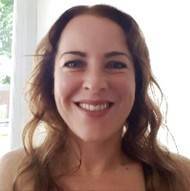 Author
Laura has been writing for over 10 years, and when she's not busy crafting articles about bingo, casino, slots, and other exciting topics, she loves to travel, do crosswords, and pub quizzes (just don't try and beat her at music trivia!) In her previous roles, Laura has managed an IT helpdesk, worked as an IT project co-ordinator, and ran a local events website. Laura lives in Wales with her partner.