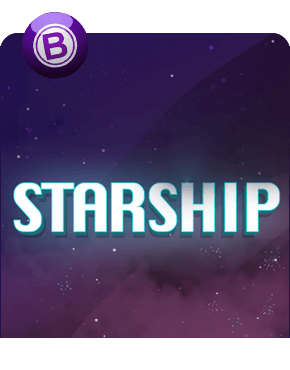 Tombola Starship Bingo Review
Starship Bingo is yet another unique bingo game devised by the bods at tombola and has an exciting arcade vibe going on that those old enough to remember playing Space Invaders will recognise instantly.
Participating Rooms
Starship
Jackpot
Starship fixed jackpot £50 to £1,000
Retro Space Invaders vibes
Exclusive to tombola Bingo
Updated November 30, 2023
There might be a tombola arcade site that partners tombola bingo, but now the arcade has come to bingo in the form of 36-ball game Starship. There's even a blast 'em up game to play once you have purchased your ticket and are waiting for your game to start. The tombola news feed was buzzing when launch of this remarkable game took place and is always a good place to look for all the new innovations the site is famous for.
There's a new game every few minutes, and in the early days the single room was packed out and the prizes were out of this world. We expect them to return to normal levels once the initial novelty wears off, but should still be good as we see this being a popular go to game for tombola players.
Tickets are available for the each game at 10p, 25p, 50p, £1 or £2 and you can either blast the called numbers yourself or let the software do it.
How to Play
You need to join tombola to play and to fund your account. Find the clearly labelled Starship bingo room and enter.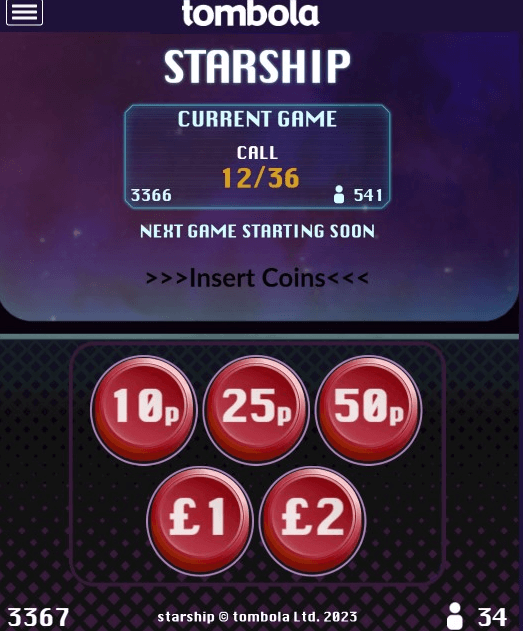 There is only one ticket per player per game, you just choose how much you want to pay to play.
On each ticket you will see 12 'Enemy Ships' (blue) and 6 'Astro Ships' (gold) numbered between 1 and 36. As the numbers are revealed they are 'shot' by the spaceship at the foot of the ticket. If you want to do it yourself visit the game menu to choose this option.
One prize is for being first to clear all 6 'Astro' ship numbers and then the first to clear the rest for the full house.
Jackpot
The Starship jackpot is fixed and not progressive, so it's always worth the same amount, regardless of how many tickets have been sold for each game. It only varies with the price you paid for your ticket. Within 25 calls you can win:
£1,000 with a £2 stake
£500 with a £1 stake
£250 with a 50p stake
£125 with a 25p stake
£50 with a 10p stake
The Jackpot is won by the first player to destroy all 18 ships on their ticket in 25 calls or under. The even better news is that this jackpot is never shared, so if more than one person called in 25 or under, each person would get the full jackpot prize.
Graphics and Sounds
As you might expect from an outer space themed game the design colour is quite dark in the purple/black range, but the shooter and the numbered ships to add a bit of colour and it is very atmospheric.
There's a pulsing rhythm to the background music and the shooting sounds when the numbers are called and match one on your card add to the excitement.
You can choose to have the music and sound effects on or off, so if you find them annoying you don't have to have them activated.
Conclusion
It never ceases to amaze us how tombola keep coming up with these game innovations time and again and evolve the bingo variants we get to play. This new 36 ball bingo game is a great addition to the tombola bingo repertoire. While early days sees what we deem too many players for a single room, it is likely this will evolve like Blocks did to much more manageable levels and more chance of winning as time goes on. However, who doesn't like the chance to win a bigger bingo prize in a more crowded room should luck strike?
If you like the sound of Starship Bingo and you are not yet a member at tombola, check out our Tombola Bingo review to find out more about the brand and its games and promotions, plus the generous welcome offer that's available!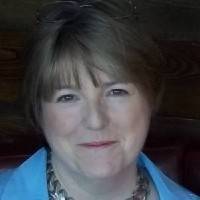 Author And Contributing Editor
Anita is a well-known bingo-lover and has been involved with online bingo since the late 1990's. She has been along for the ride and seen the industry grow and develop into what it is today. She has worked with the biggest names in the industry and has a reputation for being fair and to the point in her writing.