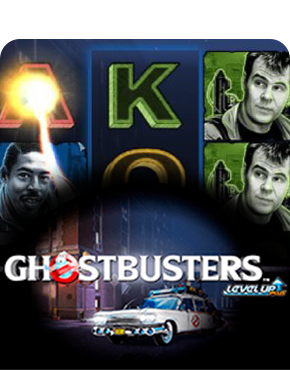 Ghostbusters Plus Slot Review
If there's something strange, in the slotting world, then what you gonna play? Ghostbusters! That was the cry when the original IGT 'Ghostbusters' slot popped out from the spirit world in 2011. Now, a mere eight years later IGT has decided to provide a follow up to their classic spooky title by releasing 'Ghostbusters Plus'.
Play Ghostbusters Plus at these suggested casinos
Fans of the original 1984 Ghostbusters movie will no doubt breathe a sigh of relief when they see that this slot is based on the original film, and not the 2016 're-imagining'. The 'modern' version caused a huge amount of controversy as it replaced the all-male team of the original movie with an all-female crew including Melissa McCarthy and Kirsten Wiig, among others. However, all the controversy was forgotten upon the film's release, mainly because it wasn't very good at all.
The latest news is that some of the original cast will join up for a genuine Ghostbusters sequel, to be released in summer 2020.
How to play
Ghostbusters Plus (or 'Ghostbuster Level Up Plus' to give the game its full and accurate title) is a fairly typical five-reel slot with 20 paylines. All winning paylines commence from the left-hand reel and must contain a minimum of three identical symbols in a row, starting from the left.
Coin values start at £0.01 and rise all the way to £30. Your bet is fixed at 25 coins, allowing for a succession of total bet values per spin between £0.35 and £750. All payouts are paid as multiples of your coin size.
The Ghostbusters logo is wild and substitutes for all symbols aside from the bonus and ghosts symbols
5 x Ghostbusters logo symbols = 1,000 coins (max £30,000)
5 x Peter Venkman (Bill Murray) symbols = 500 coins (max £15,000)
5 x Ray Stantz (Dan Aykroyd) symbols = 250 coins (max £7,500)
5 x Egon Spengler (Harold Ramis) symbols = 200 coins (max £6,000)
5 x Winston Zeddemore (Ernie Hudson) symbols = 200 coins (max £6,000)
5 x Ace symbols = 100 coins (max £3,000)
5 x King symbols = 100 coins (max £3,000)
5 x Queen symbols = 75 coins (max £2,250)
5 x Jack Symbols = 50 coins (max £1,500)
Jackpot
There is no progressive jackpot in this game. The maximum payout is capped at a hefty £25,000,000, although winning this staggering amount can only be done by achieving multiple 5 x Ghostbuster logo symbols on winning paylines with a 25x Wild bonus achieved via the Zuul Free Spins Bonus.
Special Features
Ghost Battle
If you land a ghost symbol on the middle reel, then you need to zap the ghost to gain a Ghost Wild. These are wilds that multiply any wins they appear in, at levels of 3x, 5x, 10x and 25x (the latter during the Zuul Free Spins Bonus game only). Some Ghost Wilds will also expand to create the maximum possible win or will give you extra wilds.
Equipment
This feature is triggered randomly. There are five equipment symbols in total:
Proton Pack
Ghost Sniffer
PKE Meter
Ecto Goggles
Psychogram Helmet
Each symbol creates its own feature. For example, the PKE Meter will turn one or more of the J, Q, K and A symbols into wilds.
LevelUp Plus
Each ghost loses energy during a Ghost Battle. Once you have completely defeated a ghost it is removed from the game and you rise up one level and unlock new features. For example, once you've reached Level 2 you unlock the Ghost Sniffer symbol. You need to keep going to reach the top level to unlock all symbols and features.
Zuul Free Spins Bonus
If you land a Zuul bonus symbol on reels 1, 3 and 5 on the same spin Zuul will appear. You need to zap Zuul five times to trigger the Zuul Free Spins Bonus feature. During your free spins, extra symbols are added, including a 25x Wild. You can earn re-spins during this feature, up to a maximum of 25 free spins in total.
Graphics and Sounds
There's a real retro vibe about the game's look and feel which, given that it is based on a movie that was released in 1984, fits in perfectly well. The ghosts, when they appear, are nicely animated and zapping them successfully feels supremely satisfying. The four main characters could be better animated though, as they are just repeated stills from the movie.
There's the 'Ghostbusters' theme, but only during Zuul Free Spins (except for something that quite-but-not-quite sounds like it when you score a big win), so we guess IGT were unsuccessful in acquiring that side of the licensing for the full game. There are some decent sound effects though, including a nerve-shredding growl from Zuul whenever he appears.
Conclusion
With an impressive array of features, and the ability to unlock more symbols and bonuses the more you play, this is a very good game from IGT. It would have been nicer to have a little more animation though, and of course, that classic 'Who You Gonna Call?' theme tune all the time. There's certainly enough variety and enough to unlock to keep you entertained during an extended playing session.
Why not call on one of our recommended bingo, slots or casino sites to do a little bit of ghost-hunting yourself with the Ghostbusters Plus slot, new from IGT?