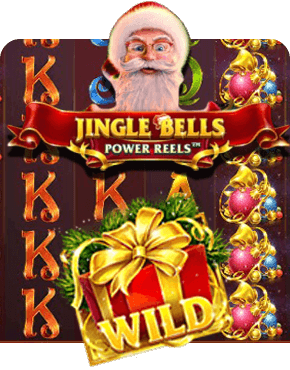 Jingle Bells Power Reels Slot Review
Jingle Bells! Jingle Bells! Jingle all the way! Oh (how entertaining), it is to play this slot from Red Tiger, hey! Okay, so now we have gotten that out of our systems we can continue with our review of this festively-themed slot from Red Tiger.
Software provider
Red Tiger Gaming
Play Jingle Bells Power Reels at these suggested casinos
Many moons ago (2015 in fact) Red Tiger released a classic, three-reel single payline slot called Jingle Bells. Now they have completely revamped that 'classic' with a release in 2020 that might just have been timed to coincide with Christmas!
This version though is substantially different from that original 2015 release, mainly (or wholly) thanks to that Power Reels motif. The number of reels has been increased to eight, and the number of rows to six. Most symbols come stacked, plus there are forty paylines in total.
A bespectacled Santa Claus pops up now and again to add to the Christmas theme and when he does he 'presents' you with many added benefits just like he does on Christmas Eve if you've been good!
How to Play
This slot comes with a selection of stake sizes from a tiddling £0.10 right up to a hamper-sized £150. As there are forty paylines your bet 'per spin' is your bet size divided by forty, which does make the mathematics a little hard when you are trying to calculate any winnings. It's best if you allow the game to completely handle any payouts without worrying about it.
A win is any combination of three or more (or in the case of 'bells', only two) identical symbols in sequence on a payline. For a win, the first symbol in the sequence must be on the left-hand reel.
As with most slots games, there are wild symbols included within the game. They have a double function – they will score you wins just like any other symbol, but they will also substitute for all other symbols in the game, aside from the bonus spins symbols.
Maximum wins are as follows:
8 x Wilds = 1,000 x coin size (max £3,750)
8 x Bells = 600 x coin size (max £2,250)
8 x Stars = 300 x coin size (max £1,125)
8 x Baubels = 240 x coin size (max £900)
8 x Stockings = 200 x coin size (max £750)
8 x Candy Canes = 140 x coin size (max £525)
8 x Aces = 100 x coin size (max £325)
8 x Kings = 80 x coin size (max £300)
8 x Queens = 72 x coin size (max £270)
8 x Jacks = 56 x coin size (max £210)
8 x Tens = 48 x coin size (max £180)
Jackpot
If you play this game at certain casinos (such as Leo Vegas) you will find it has a progressive jackpot – refer to the game instructions supplied by the casino offering the jackpot to see how it is won. If you are not playing a version of this game with a progressive jackpot then the most you can win is 6,000 times your coin size (so, 150 times your stake).
Bonus Features
Occasionally, and purely at random, Santa will pop up and award you one of the following bonus features. During free spins Mr Claus is much more likely to make an appearance.
Mega Wild
Santa will drop a 5×6 wild onto the reels to guarantee a win.
Christmas Tree Multiplier
Santa will award a multiplier, maximum value x5. This is then applied to your next win.
Raining Wilds
Father Crimbo will creep across the reels adding wilds until you have a guaranteed win.
Winning Reels
That man in the red suit will change low-paying symbols on the reels to high-paying ones to guarantee you a win.
Free spins
Free spin scatters landing on the reels will award you the following number of free spins:
3 scatters – 8 free spins
4 scatters – 11 free spins
5 scatters – 14 free spins
6 scatters – 17 free spins
7 scatters – 20 free spins
8 scatters – 23 free spins
Landing three or more scatters across the reels will land you a bonus five free spins, plus three bonus free spins for every scatter landed over three.
Graphics and Sounds
You can kind of tell that this slot has been based on one that was created five years ago as the symbols are largely static and 'traditional' looking. Santa himself is a little more animated though as he creeps, quite disconcertingly, across the reels when he awards you one of his features.
There's not must festive cheer in the music used which barely sounds Christmassy at all, aside from some tubular bells. We didn't expect a Christmas angelic choir but something a little more festive would be an improvement to our ears.
Conclusion
As usual, there will be a deluge of festive-themed slots released by the major casino software houses in 2020 and we have to say that Jingle Bells Power Reels is more of a Christmas turkey than a Christmas cracker. It is good, but not that good.
If, however, you like games with lots of reels and lots of rows then you could get your Christmas slotting experience off to a really good start by powering around with Red Tiger's Jingle Bells Power Reels at one of WhichBingo's recommended slots or casino sites.