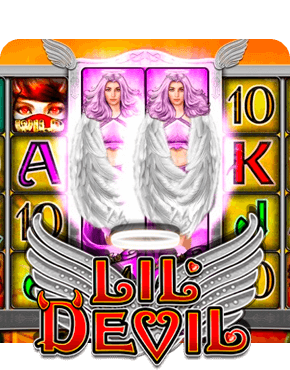 Lil' Devil Slot Review
If you're a bit of a slotting expert, then no doubt you will have heard of the software company Big Time Gaming. You will also have probably heard of their Megaways concept, in which an added reel is added to the slots to give players more chance of winning.
Software provider
Big Time Gaming
Play Lil' Devil at these suggested casinos
Lil' Devil is not a Megaways slot, but it does have six reels. It's actually another in Big Time Gaming's range of slots that are based on classic rock tunes. Lil' Devil is a popular track by UK-based hard rock band The Cult, probably best known for their 1985 hit "She Sells Sanctuary", which peaked at number 15 in the UK charts. Lil' Devil came later in the band's career in 1987, and almost cracked the top ten, peaking at number 11.
This is the fifth Big Time Gaming Slot based on a rock anthem, following Gold (Spandau Ballet), Danger! High Voltage (Electric Six), Holy Diver (Dio) and The Final Countdown (Europe).
How to Play
This online video slot has a very strange set up indeed. The reels are arranged in three grids, each two columns long and four rows high. The entire effect is a slot with six reels and four rows.
To play this slot all you need to do is select your entire stake for each spin. This can be as low as 0.10 or as high as 20.00. This slot has 4,096 paylines, as all possible paylines are in play. You just need to land matching symbols on consecutive reels – the row they are on does not matter. You need to land at least three (or two Purple Hearts) from the left-hand reel onwards to secure a pay-out. All pay-outs are paid as a multiple of the total stake.
A lady devil is one wild in this game, appearing on reels 2 to 5 and substituting for all other symbols. Angel Wilds appear on reels 3 and 4 and contain a multiplier between x4 and x12. If two Angel Wilds appear as part of a win then their multipliers are combined, for a minimum of x16 and a maximum of x144.
6 x Wooden Shack symbols = 100 x stake (max £2,000)
6 x Purple Heart symbols = 10 x stake (max £200)
6 x Scorpion symbols = 5 x stake (max £100)
6 x Lizard in a Bottle symbols = 1.5 x stake (max £30)
6 x Alligator symbols = 1.5 x stake (max £30)
6 x Ace symbols = 1 x stake (max £20)
6 x King symbols = 1 x stake (max £20)
6 x Queen symbols = 0.6 x stake (max £12)
6 x Jack symbols = 0.6 x stake (max £12)
6 x Ten symbols = 0.5 x stake (max £10)
6 x Nine symbols = 0.4 x stake (max £8)
Jackpot
It doesn't matter if you're a devil or an angel when playing this game as there is no progressive jackpot to be had. We think the highest possible payout in this game is £57,600 for the max stake with a x144 multiplier.
Bonus Features
Scatters
The Wooden Shack symbol is a scatter in this game. If you land two scatters you earn yourself a heart, and forty hearts will trigger the Heartstopper Enhanced Free Spins feature. If you land three or more scatters you earn a bonus game – either Be My Angel free spins, or Dynamite Lover free spins.
Be My Angel Free Spins
Seven free spins are awarded for which one symbol is chosen as a sticky wild on reels 2 to 5. Four sticky wilds on a reel will award three bonus free spins unless they are on reels three or four in which case they are converted to Angel Wilds.
The Angel Wild multiplier starts at x2 and increases by a factor of two each spin until it reaches x12.
Dynamite Lover Free Spins
A dozen free spins are awarded and all winning symbols except from scatters that complete a payline win explode, allowing new symbols to drop in from above. A new 'Dynamite Wild' appears on reels 3 and 4 and contains a multiplier which increases by 1 each time there's an exploding win. If you land three further scatters during this feature you are rewarded with six bonus free spins.
Heartstopper Enhanced Free Spins
If you play Be My Angel free spins after collecting forty hearts, the Purple Heart symbol becomes an extra wild. If you play Dynamite Lover free spins after collecting forty hearts the Dynamite Wild Multiplier starts at x5.
Graphics and Sound
The graphics for this game can best be described as being 'adequate' on the side of being positive. There's nothing to get hearts racing here when it comes to eye candy.
Sound wise, it's just a desolate howling and the jingling of the reels … until you land two scatters and Mr Astbury and his fellow Cult band members fire up as you anticipate landing a third. 'Lil' Devil' plays throughout the free spins features, as well.
One oddity – when/if you win big following free spins The Cult's 'Lil' Devil' is replaced by Beethoven's 'Ode to Joy', which is bizarre to say the least.
Conclusion
This slot plays well and has some nice features, but it can become a little tiresome as you watch the reels spin endlessly. The bonus features, should you trigger them, are really cool though and those multipliers soon start amassing. This slot is of course a boon for fans of The Cult!
If you are wondering about some of the symbols choices, especially 'lizard in a bottle', listen to the song!
Why not be a lil' devil yourself and take this slot out for a spin at one of WhichBingo's recommended bingo, slots or casino sites?