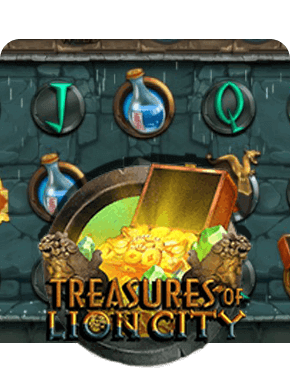 Treasures of Lion City Review
We have the City That Never Sleeps (New York City), the City of Angels (Los Angeles) and the Windy City (Chicago, or Birmingham after everyone there has paid a visit to Balti Mile). Now, to the list of famous world-wide cities in the world we are able to add Lion City!
Software provider
Pulse 8 Studios
Play Treasures of Lion City at these suggested casinos
Before we get too distracted by this slot it's our duty at WhichBingo to educate you a little and tell you that Lion City is actually a place, although you probably know it as the one city state that is Singapore. 'Singa' in Malay means lion, and 'Pura' in Malay means city. So now you know!
What you might not know is what are treasures of Lion City, so to find that out you can keep on reading this review of one of Microgaming's final slot releases of 2014, via one of their subsidiary sections Pulse 8 Studios.
How to Play
This is a typical slot in that the playing grid is 5×3, but as opposed to the symbols rolling around the grid, they fall into the grid from above, in much the same style as that old classic and hugely popular casino game, Gonzo's Quest. Also, just like Gonzo's Quest when winning symbols land on the reels they disappear, allowing new symbols to fall from above and take their place.
This slot has 25 paylines, and that's a fixed number. To set the symbols a-tumblin', you need to select your bet size first. This can be anything from 0.25 to 50.00. You are paying 25 coins per 'spin', so your actual coin size can be anything from 0.01 to 2.00. When you are happy with your bet, click the big red spin button.
An impressive lion mask is the wild symbol in this game. The wild symbol substitutes for all other symbols.
5 x Wild symbols = 500 coins (max £1,000)
5 x Treasure Chest symbols = 450 coins (max £900)
5 x Dragon Helmet symbols = 375 coins (max £750)
5 x Magic Potion symbols = 300 coins (max £600)
5 x Emerald symbols = 275 coins (max £550)
5 x Sapphire symbols = 150 coins (max £300)
5 x Ace symbols = 125 coins (max £250)
5 x King symbols = 125 coins (max £250)
5 x Queen symbols = 100 coins (max £200)
5 x Jack symbols = 100 coins (max £200)
Jackpot
This game does not offer you the treasure of a progressive jackpot. The most you can win during a winning spin is £130,000.
Special Features
Rolling Reels
As we've mentioned previously, this game has a 'Rolling Reels" feature (which Microgaming have actually gone and trademarked, even though it is identical to the "Cascading Blocks" feature found in NetEnt's Gonzo's Quest and a few other slots). When all fifteen blocks … er … rolling reels symbols have landed, any that form a winning sequence disappear. Any symbols above them tumble down, and new symbols fall down from above to replace them). This sequence continues on until no new winning paylines are created.
Win Meter
When you land a win, all potion symbols are turned into wilds for all subsequent rolling reels spins. On the third successive rolling reels win, the dragon helmet symbol also turns wild, and on the fifth the treasure chest symbols join in with the entertainment by going wild too.
If you make it to the seventh consecutive rolling reels win all subsequent wins are multiplied by a factor of three. Make it to nine consecutive rolling reels wins and that multiplier is ramped up to nine.
For the ultimate in rolling reels treasure you need to make it eleven consecutive rolling reels wins. If you succeed in doing that, then all wins are suddenly multiplied by an amazing factor of 27!
Graphics and Sounds
The main graphical actions take place within the playing arena (where it seems to be perpetually raining). Everything else is completely static. The symbols cascade into the playing grid nicely, and there are lots of flashes, thumps, slams and musical stings as the game progresses. Any big wins are celebrated with bright flashes and spinning coins.
All the action takes place to a thumping Asian-style soundtrack that sadly, soon begins to annoy. You can't turn it off though without turning off all sounds completely.
Conclusion
We've seen all this before. All the concepts used in this slot have been around since the 2011 launch of NetEnt's Gonzo's Quest. There's nothing completely wrong in this as the Treasures of Lion City is a decent-enough game. It's just a shame that Microgaming couldn't have spent their time coming up with something that's a little more original.
Why not see if you can uncover the Treasures of Lion City at one of the online bingo or slots site as recommended by use here at WhichBingo?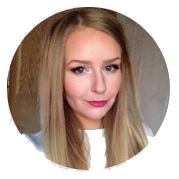 Author
Jennifer is a writer with over five years of experience in the online casino industry. She has a First Class Honours in Media and Journalism and specialises in writing online casino reviews, slot reviews and gambling news content. Digital marketing, SEO and public relations are also other areas of interest for Jennifer and she has worked across these industries before setting up her own content company.