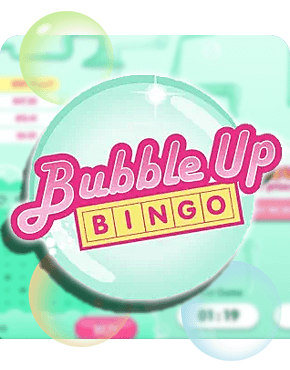 Bubble Up Bingo Review
Bubble Up Bingo is the award winning bingo game from Gamesys that players can enjoy exclusively on the Gamesys network of popular brands.
Participating Rooms
Bubble Up Bingo room
Jackpot
Super 7 Jackpot & Double Up Bonus
Based on the popular Double Bubble Slot game
Play Bubble Up Bingo at these suggested casinos
STOP PRESS: WHICHBINGO AWARD WINNER 2023 – Best Bingo Game
This award winning bingo game is inspired by the hugely popular Double Bubble slot game that everyone who plays at Bally's sites will be familiar with, and it features many of the same bright and colourful graphics that players love in the original slot game.
How to play
Bubble Up Bingo is a 90 ball bingo game that is simple and easy to play. The aim of the game is to get one line, two lines and finally, a full house.
To get started, simply click on the 'Buy Tickets' button to purchase up to a maximum of 60 tickets per game at a cost of 10p each or 30m tickets when the price is 20p a ticket. Players also have the option to buy tickets in bulk with the option to purchase tickets to use over a series of games.
The game will then begin and players will be looking to mark off one line, then two lines and then a full house. It really is as simple as that! The key here is to get a win with double numbers as this will unlock even bigger jackpot prizes which you can learn more about below.
Jackpot
The big jackpot in Bubble Up Bingo is the Super 7 Jackpot but there is also the Double Up Bonus. The Double Up Bonus is better than we have seen before at other sites as it can be won if you get one line, two lines or the full house on a double number – not just the full house win. This will then double your prize amount. The double numbers you can get are:
The Super 7 Jackpot is a progressive jackpot that can only be won on the full house. To get this jackpot, you must win the game on the number 7. This will then award you both the full house prize and the Super 7 Jackpot. As this is a progressive jackpot prize, it will reset after it has been won.
Graphics and Sounds
If you enjoy bingo games with a slick design, then Bubble Up Bingo will not disappoint. Just like all Gamesys bingo games, this bingo room looks fantastic with its bright and colourful green colour scheme that you may recognise from the popular Double Bubble slot game. To the left of your screen, you will see your tickets or if you are playing on mobile, they are on the bottom half of the screen. As the game plays, players can watch as bubbles rise and each one represents a number being called. The music is nice too and players can enjoy a lively, jazz style music theme in the background. However, if this is too much there is always the option to turn the music off. The sound affects are really cool too – the system makes it clear when a double number is called and even the caller sounds like he is having a lot of fun!
Conclusion
If you love the Double Bubble slot game, there is absolutely no doubt that you will also enjoy the thrilling bingo version of this game. Players will enjoy how easy it is to play as it's still a simple 90 ball game, but it has the exciting twist of doubling your win or even landing the big progressive jackpot! Overall, it's a great option and with tickets only costing 10p or 20p, it is one that you won't want to miss out on playing.
Are you ready to try out the brand new Bubble Up Bingo? Head on over to the fantastic Jackpotjoy site, or the new Double Bubble Bingo site, to get started playing today! The game is so popular it has also been added to all the Bally's networked brands so you have an even greater choice of where to play – Megaways Casino, Rainbow Riches Casino and Monopoly Casino.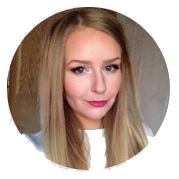 Author
Jennifer is a writer with over five years of experience in the online casino industry. She has a First Class Honours in Media and Journalism and specialises in writing online casino reviews, slot reviews and gambling news content. Digital marketing, SEO and public relations are also other areas of interest for Jennifer and she has worked across these industries before setting up her own content company.