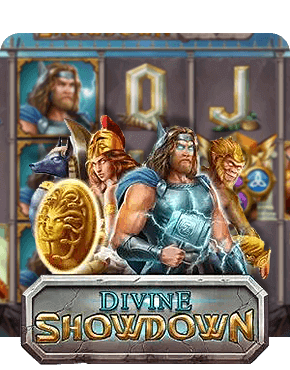 Divine Showdown
No matter what us humble dudes do down here on earth, we will always be but simple playthings for the gods to manipulate to their whims. Be it the Nordic gods, or the Roman gods, or even the Greek gods, we've all suffered in some way or another as the all-powerful beings that rule the universe battle among each other for godly supremacy!
Software provider
Play'n Go
Play Divine Showdown at these suggested casinos
The powers that be at Play'n Go have finally recognised that we are but servants to be toyed with as the gods see fit, and have released the online video slot Divine Showdown. Here the gods do battle to see whom will finally prevail and rule them all!
For this slot we have obviously reached the semi-final stage of the 'Battle of the Gods' as only four are left standing:
Thor – the Nordic god of thunder and lightning. Special ability: has a big hammer.
Athena – the Greek god of wisdom and warfare. Special ability: has lots of arty shops.
Anubis – dog-headed Egyptian god of death. Special ability: excels at fetching sticks.
Wukong – monkey king of Chinese mythology. Special ability: sees, hears and speaks no evil.
You can watch the ultimate battle of the gods commence as you get busy spinning the reels.
How to Play
Divine Showdown is a 5-reel, 3-row slots with twenty available paylines. All possible paylines are in play at all times. Instead of selecting your coin size in this game, you simply choose how much you want to bet on each spin. Your bet per spin can be as little as £0.20 and as much as £100.00. You are, in effect, betting twenty coins on each spin (this is fixed) and all payouts are paid as multiples of your coin size. All wins are for three or more consecutive symbols on an active payline starting from the left-hand reel.
The wild symbol in this game substitutes for all other symbols aside from the scatter symbol. The wild symbol at times can expand so that it covers three of the reels.
5 x Thor symbols = 320 coins (max £1,600)
5 x Athena symbols = 240 coins (max £1,200)
5 x Anubis symbols = 160 coins (max £800)
5 x Wukong symbols = 160 coins (max £800)
5 x Ace symbols = 50 coins (max £250)
5 x King symbols = 40 coins (max £200)
5 x Queen symbols = 30 coins (max £150)
5 x Jack symbols = 20 coins (max £100)
5 x Ten symbols = 20 coins (max £100)
Jackpot
Despite the godly nature of this online slot, there is no such thing as a progressive jackpot attached to this game. The biggest jackpot is £1,600 for five Thor symbols, but this can be jacked up to £16,000 with the award of a 10x multiplier.
Special Features
Random Multiplier
At the top of the reels there is a multiplier that can be triggered randomly. This will award a multiplier of between x2 and x10 to all wins.
Random God Powers
Occasionally a god will pop up and enhance your spin with their special ability. The godly powers as displayed by the gods are as follows:
Wukong: One or two reels become Wild Reels
Anubis: All instances of one or two symbols become Wild
Athena: three reels become synchronised
Thor: all other god symbols are replaced with Thor symbols
Bonus Spins
There are scatter symbols on all reels and if you land three or more anywhere then you are awarded ten bonus spins.
Before you commence your bonus spins you select one of the gods to be your champion. Their godly powers are now available for every spin during the bonus spins feature.
After each spin, one of the other gods may pop up, obviously a tad annoyed that you did not select them as your champions. They will do battle with your chosen god and if they win, their 'godly' powers will take over the reels for the next spin. If your champion does emerge victorious then you are awarded one bonus, extra spin.
The god 'takeover' only lasts one spin, though. Your chosen champion returns for the next.
Graphics and Sounds
The soundtrack to this game is nicely epic and godlike with plenty of orchestral strings and stabs. Some people may consider it a little over-the-top, though. If this describes you then don't worry as eventually the epic theme fades away to be replaced with something less dramatic, although it does return if you score a big win.
The graphics are aligned with the kind of standards you expect from any description of Play'n GO game. It's not exactly Hollywood standard, but the animation is extremely decent. It certainly adds to the game's effectiveness overall.
Conclusion
While Swedish giants NetEnt are the true 'gods of slots' Play'n GO are among a group of companies threatening to rob NetEnt of that mantle. Divine Showdown is another truly excellent effort from NetEnt's Swedish cousins. The gameplay certainly will tick most players' boxes and we always find favour with games where peoples have to make choices, as do here when you have to select your godly champion.
Why not try and become a slotting god yourself by seeing how you fare when you play Divine Showdown from Play'n GO? Make sure though that you play this game at one of the best online casino or slots sites, as recommended by us here at WhichBingo!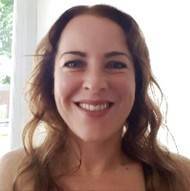 Author
Laura has been writing for over 10 years, and when she's not busy crafting articles about bingo, casino, slots, and other exciting topics, she loves to travel, do crosswords, and pub quizzes (just don't try and beat her at music trivia!) In her previous roles, Laura has managed an IT helpdesk, worked as an IT project co-ordinator, and ran a local events website. Laura lives in Wales with her partner.