Overview of Dabbers Bingo
Updated November 11, 2023

Located in the heart of East London, under the distinctive Gherkin building near Liverpool Street station, Dabbers Social Bingo is one of a kind.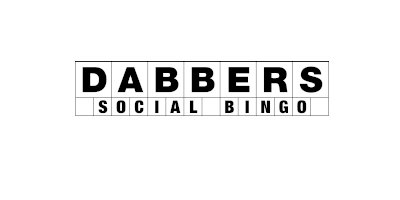 Never before has the United Kingdom had a bespoke contemporary bingo hall open on its shores, and Dabbers Bingo has been welcoming revellers through its doors since November 2018 and treating them to unique bingo experiences that have reinvigorated the game's image in the capital.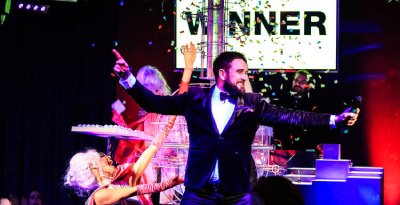 Founder Ed Wethered partnered with the people who brought the world Musical Bingo, Gospeloke, and Comedy House Party to create Dabbers Bingo, and the team held nothing back when planning their extravagant bingo experience.
Dabbers Social Bingo aims to "replace cups of tea with cocktails; bingo callers with comedians; and dreary prizes with incredible experiences", and while bingo purists will still find the game they love here, there is certainly plenty to wow those who have never played the game or have preconceptions about it.
The success of Dabbers Social Bingo has led to its expansion beyond London. As well as the purpose-built East London hall, Dabbers Social Bingo runs events in association with Musical Bingo at the celebrated Circus Room of The Aeronaut in Acton, the glitzy roller disco space of Dreamland in Margate, and the Box of FarGo Village in Coventry.
What to expect at Dabbers Bingo
Visitors to Dabbers Bingo are greeted by a lobby teeming with memorabilia from the history of bingo in the UK, providing seasoned players and newbies with a feast for the eyes that sets the tone for what's to come.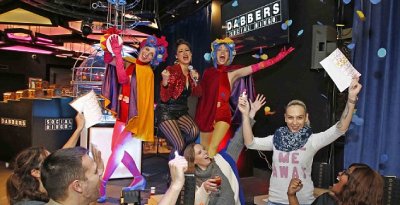 You can purchase bingo cards at reception in the same way you would at a traditional bingo hall, and then it's time to head to the bar to peruse the wide selection of cocktails, four-pint pitchers of beer, and even affordably priced champagne if you're in the mood to celebrate.
The main bingo hall resides downstairs, and the vibe is very much a social one. Rather than being seated at your own table, you're encouraged to take a seat alongside new friends on the social bingo tables. However, if you do want a little more privacy there are banquette tables on the sidelines, and some exclusive 'Baller Booths' available for hire.
Dabbers Bingo games
Once you're seated with your drinks, it's time for the fun to begin!
Every night at Dabbers Social Bingo is different, with themed games ranging from old school Vintage Bingo, to gameshows like 'Next Top Bingo Caller'.
Bingo Express is a rapid-fire version of 45-ball bingo, in which players compete to be the first to dab off the 'Express Box', and also take a chance on the bonus prize if they can answer the host's tricky brainteaser.
Jackpot Bingo is part game show, part glitzy night out. Imagine starring in your favourite Saturday night TV programme and you'll be somewhere close to the experience of Dabbers Jackpot Bingo, where there are seven treasure chests of prizes to play for as well as the option to gamble your winnings for even bigger cash prizes.
Pick'N'Mix Bingo is Dabbers' regular schedule of different games, or 'shows' as they are known at Dabbers, that run throughout the week, including classic 90-ball and 75-ball bingo games, Musical Bingo, Bingo Bonanza and 'Bluff My Box Bingo'. The team at Dabbers have created unique games as part of their mesmerising live shows, which feature great music from some of London's top DJs, and superb prizes to play for each week.
Singo Bingo is a monthly event that launched at Dabbers in May 2022. It includes a tasty brunch and bottomless punch deal combined with Gospeloke. Gospeloke is a contemporary gospel choir that performs across the UK, and as part of its Singo Bingo residency at Dabbers, its singers help to announce the numbers while injecting a large helping of soul into the proceedings. There are prizes for one line, two lines, and a full house.
Dabbers Bingo prizes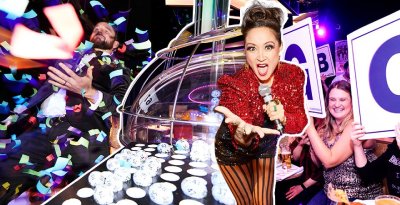 There are different prizes available in all of the different games that get played at Dabbers Social Bingo, so it's worth checking the website at dabbers.bingo to see what's on offer before you visit.
Cash prizes on offer at Dabbers Bingo can reach upwards of £1,000, and the hosts regularly give away all-expenses-paid hotel stays, annual passes to Dabbers Bingo, luxurious photoshoots, spa days, and dinner dates.
Food and drink at Dabbers Bingo
The food and drink at Dabbers Social Bingo is very much central to the whole experience, and is described by Dabbers as "yummy comfort food with inspired extra special touches".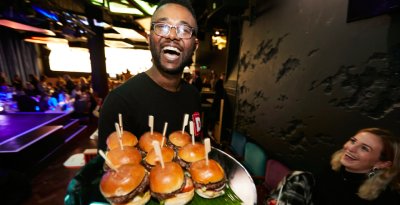 You can order food by using the QR code on the menu at your table to order online, or you can speak to a member of the Dabbers team.
Examples of the 'Small Plates' section of the menu include dishes like panko halloumi balls with Szechuan sauce, cauliflower poppers with red tapenade, and triple cooked potato wedges with melted mature cheddar and chives.
On the mains menu you'll find imaginative twists on classics, such as the prawn cocktail pizza, the 'lucky mother-clucker' monster munch fried chicken burger, and the 'peace and love' plant-based burger.
If you just want something to share, you can order 'The Big Dipper': a baked camembert sitting inside a pineapple, with a selection of skewered appetisers to dip into it including griddled pineapple, chorizo, figs, grapes, olives and cured ham.
The drinks menu is just as tantalising, with cocktails including espresso martini, negroni, tequila lemon jelly and pink lady all available, along with pitchers of beer, wine by the bottle, and soft drinks.
Venues and tickets
Dabbers Bingo's main venue is at 18-22 Houndsditch in East London, where ticket prices range from £10 to £20 per person. Ticket prices often include drinks deals so, again, be sure to check the bingo site at dabbers.bingo to find out what's on offer.
In October 2022 Dabbers Social Bingo announced the opening of a second dedicated venue, bringing this modern take on bingo to the ever-vibrant Hackney.
This new venue's schedule includes the brand-new Dabbers Social Bingo Club; exclusive to Hackney and designed too bear in mind that many people are facing a cost-of-living and the challenges this brings. It is a community-focussed show designed to run at-cost for Dabbers, with no profit margin. Running every Tuesday, Dabbers Social Bingo Club features all the glitz, sass and flamboyance of Dabbers Bingo, but with discounted entry and half price drinks. Dabbers have specifically created this night with the aim of bringing a much-needed fun evening out to those on a budget.
Tickets at the Acton, Margate and Coventry venues that play host to Dabbers Bingo start at £7 per person and range up to £15.
Family Brunch Bingo at Dabbers Bingo in Coventry offers family tickets for just £24. Entertainment, bingo cards and dabbers are included in all ticket prices at Dabbers Social Bingo.
Dabbers Next Top Bingo Caller
Charlie Shakespeare Joins the Judges
Dabbers Bingo goes all out to get everyone involved and runs headline grabbing events on a regular basis. The search for Dabbers Next Top Bingo Caller is well under way and our very own Charlie Shakespeare was invited to become a judge at one of the heats. Here's the lowdown on his experience…
The heats are hotting up fast and on 29th May it was my pleasure to be invited to Dabbers Bingo in Aldgate, London to judge the latest heat of the Next Top Bingo Caller competition.
London based comedians, cabaret acts and performers have been competing each week to get a job as Dabbers new bingo caller. Sunday was the fourth and final heat. I was invited to judge the event whilst also enjoying the show with my fiancée and some friends. The afternoon officially kicked off when the host, comedian Sikisa Bostwick, signalled for the Dabbers balls to drop…
First up was drag queen Crudi Dench who set a high standard going forward and ultimately finished in second place. Other acts included cabaret artist Sue the Cleaner, musical duo The Pinky and comedian The Manager, but the winner – as voted for by the audience and judges – was Barbra Bennett.
Barbra stormed onto the stage with tremendous energy and didn't miss a single beat as she presented her section of bingo. My favourite part of her act was when she stopped the game mid-flow to head over to the bar and pour herself a cocktail with 80% Malibu and 20% mixer. Clearly, the staff weren't aware this was going to happen, and I loved how Barbra took full control of not only the stage, but the entire venue. Her attitude said; "I'm the host now and whether I win or lose, I'm making this moment my own!"
She even got members of the audience up on the stage for a dance…
Barbra certainly deserved her place in the next heat, but was ultimately pipped at the post in the final by Crudi Dench from Brighton.
Musical Bingo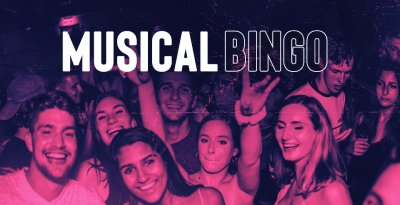 Dabbers Bingo was created in part by the people who brought the world Musical Bingo back in 2008.
Musical Bingo takes place at venues across the South East of the UK, including nights at Dabbers Social Bingo.
Dubbed "London's ultimate interactive club night", Musical Bingo is a chance to party to some of your favourite tunes while playing for prizes in a fun-filled, often wild and wonderful atmosphere.
The event's catchphrase is 'eyes down ears up', and that's exactly what you have to do when the music starts and you begin to mark off the songs on your bingo card to win prizes.
Musical Bingo's success has taken it to festivals all over the world, and the uniquely talented hosts and comperes ensure that a night at Musical Bingo is one like no other.
Dabbers Bingo Q&A with the Founders
What is the Dabbers Bingo experience?
Dabbers Social Bingo is the UK's first contemporary venue purposefully designed to celebrate the beloved game. We've taken all best bits of bingo and given them a bit of a facelift, the numbers upon balls are now fired out through a custom built bingo blower machine. The calls have been injected with contemporary and tongue in cheek wokeness and urban slang. We've added in gameshow-esque twists to the format. Hilarious comedians at the helm to guide the show alongside our 'Dabbettes' who sing and dance whilst calling out the numbers. But of course the fun doesn't just end there, our cocktail and food menu has been designed to extend out the theatre to your table too. We have reinvented nostalgic party classics into incredible mouth watering sensations, all of which are dished out by engaging and friendly servers.
Why is your event/show different from other live Bingo events?
Our focus has always been about creating unique experiences and lasting memories. The Dabbers team put their heart and soul into the 17 + shows in which they have curated, and so within the hall itself there's always something for everyone. We aim for all our guests to leave feeling that they were a part of something special and that this club belongs to them.
Where did the idea for [BRAND] come from?
It all began with co-founders Ed Wethered and Jonny Unknown, both had previously been running bingo pop ups across London and wanted to build a new contemporary bingo hall whilst celebrating the golden era of the bingo club.
When did you begin running shows/events?
We launched in November 2018
How do you see live bingo continuing to evolve in the next decade?
I'd imagine through new technology and ways in which people socialise. Perhaps some kind of 3D teleportation in which you and your friends can all be beamed to play together from your remote places?
What were the challenges of setting up your own venue in central London?
Where to start… raising the investment, finding the right site, hiring the best team, understanding the importance of great training… and then just when we really got going we were hit by the pandemic!
How do you find the right hosts to appear as your resident Dabbettes?
For the hosts we visit comedy and cabaret clubs, the production team also go up to Edinburgh Festival every year in August to discover new talent and we also run an annual talent competition called Dabbers Next Top Bingo Caller. For our callers often via the Dabbettes who are in that dance community or people apply / are recommended to us.
Live Bingo News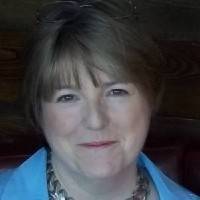 Author And Contributing Editor
Anita is a well-known bingo-lover and has been involved with online bingo since the late 1990's. She has been along for the ride and seen the industry grow and develop into what it is today. She has worked with the biggest names in the industry and has a reputation for being fair and to the point in her writing.