Hijingo Live
Updated November 11, 2023

Hijingo isn't a traditional game of bingo. Hijingo doesn't take place in a stuffy bingo hall in a converted theatre or dancehall. Hijingo is bingo as you've never seen it before. The first and only permanent, immersive bingo experience in the UK, Hijingo is the future of bingo, complete with bright lights, great music and theatre-like drama.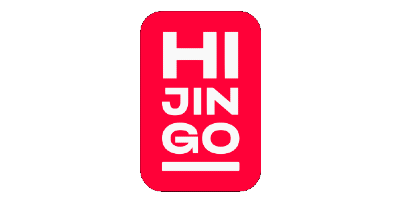 Founded by Adam Breeden of Social Entertainment Ventures and James Gordon of Rebel Bingo as the best social concept bingo in the country, Hijingo promises to have players' adrenaline pumping as they become immersed in a high-stakes game of bingo that is out of this world.
The team that created Hijingo earned a stellar reputation for immersive experiences like Bounce and Puttshack, and they have blended a high-tech multi-sensory experience with sensational prizes, great food and an unforgettable soundtrack to make Hijingo a truly unique way to play bingo.
What to expect at Hijingo
A show experience and a game of bingo all rolled into one, players who try their hand at Hijingo will begin their game in The Lucky Cat Bar, enjoying drinks with friends until the timer tells them the game is about to begin.
They'll then head to The Hijingo Room for a 90-minute show. The arena itself is remarkable, with high-tech lighting and decor that looks like it was designed 100 years in the future, and you can expect plenty of strobe lighting, pumping tunes, and a dazzling stage at the front of the seating area.
In the arena players can enjoy cocktails and delicious street food as they play for mind-blowing prizes against a backdrop of video and motion graphics, an epic soundtrack and a high-spec light show. If it sounds unimaginable, that's because it is!
To experience Hijingo for yourself, you'll need to sign up on the Hijingo website and book a timeslot for you and your pals. The venue is located on Worship Street in London's trend-setting Shoreditch region, and is easy to access from Liverpool Street and Old Street underground stations.
Hijingo games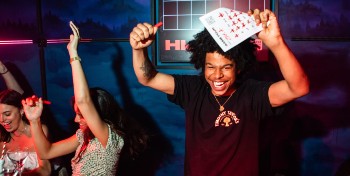 The large-scale countdown timer helps to build the anticipation as you prepare for your Hijingo game experience, which will be very much guided by technology. The arena can host up to 200 players at any one time, and the pulsating sound effects, dazzling LED screens and 3D cinema speakers ensure everyone feels completely engaged.
You'll see dancers take to the stage before the game begins, and during your 90-minute experience you have six chances to win some amazing prizes.
Your two Hijingo cards feature different patterns that you've got to find, and if you win you must remember to shout "HIJINGO!" so that one of the dancers can come and find you and take you to the stage to claim your prize.
You can even hire the Hijingo arena for your own private event, or if you want to plan a special experience for a group of friends or colleagues you could book your own table or hire a VIP Neko Box.
Hijingo prizes
Hijingo offers three levels of prizes during full sessions, with the winner taking away a more spectacular prize in each consecutive game.
The prizes differ from night to night, but you can expect to see prizes such as drinks, designer jackets, bicycles, European holidays, and large amounts of cash.
Food and drink at Hijingo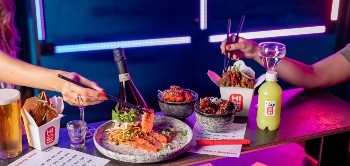 The countdown timer lets you know when the next game of Hijingo will begin, so you know exactly how long you've got to get your food and drinks in. To make life easy, you simply press a button on your table and a member of the Hijingo team will come to take your order.
The highly impressive menu includes a mixture of dishes that can be shared between your table or enjoyed individually, and the tables themselves have been specially designed to accommodate all the food and drink you desire – without your bingo game being disturbed!
The small plate selection at Hijingo includes tasty treats like Korean fried chicken, aubergine 'wings', and miso salted caramel fried chicken. The kitchen also offers up a selection of bao buns with fillings such as miso cauliflower and smoked duck.
If you're hungry for more you can order burgers from the main menu or fried chicken, shrimp, duck or vegetables served with the venue's trademark 'dirty' rice. There are duck chilli fries, short rib chilli fries, kimchi and wasabi fries, and Hijingo fries on the sides menu, and Hackney gelato in four flavours for dessert.
There is an extensive cocktail menu to peruse at the Lucky Cat Bar, including no- and low-alcohol cocktails, as well as a wine and champagne list, beer on draught and in bottles, and plenty of soft drinks too.
Venues and tickets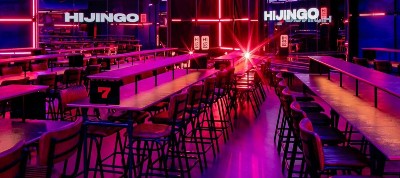 It is recommended that you book your tickets for Hijingo in advance to avoid the potential disappointment of arriving at the venue only to find it is already sold out at the time you wish to play. Booking online at hijingo.com is quick and easy, and you can even check live availability up to an hour before each game.
Tickets can be purchased for single games, which last for 30 minutes, for £11 per person. The recommended full game session at Hijingo lasts for 90 minutes, and tickets for this session cost just £16 per person.
You can also opt for the Hijingo Bottomless Brunch for £45 per person, which includes your bingo tickets, an Asian fusion brunch, and two hours of bottomless drinks.
All Hijingo games and events take place at the venue located at 90 Worship Street, London, EC2A 2BA. The nearest stations, all of which are within easy reach of the venue, are Old Street, Shoreditch High Street, Moorgate, and Liverpool Street.
We have a Q&A With Hijingo
What is the Hijingo experience?
Hijingo is a glimpse into the future of bingo, lights, lasers, smoke, robots (Hijingobots) and music; it's a visually intense sensory overload which enhances the already exciting interactive game of bingo.
Why is your event/show different from other live Bingo events?
Hijingo is a bingo club that operates 7 days a week, that means we control the entire experience – cocktails, food, and a completely curated adventure into the dangerous and exciting world of gambling.
Where did the idea for Hijingo come from?
Hijingo is bingo with added Hijinx. The idea for the brand was a meeting of minds between me and State of play Hospitality. I brought the bingo; they brought the first class hospitality experience.
When did you begin running shows/events?
I first began running the Underground Rebel Bingo Club in London in 2008. It started in a Church Hall and ended up in Las Vegas, Los Angeles, New York, Beijing, Madrid, Lisbon, and Preston. Everywhere really.
How do you see live bingo continuing to evolve in the next decade?
More lasers, more hype, bigger prizes, and stadium sized bingo arenas. This is not a joke.
Your venue is very tech savvy. Where did the inspiration for a tech show come from?
I wanted to discard any cheeky seaside bingo legacy, or cheeky sentimental references to bingo. I wanted to break free from the chains of the past, and the only way to do that is look to the future.
Live Bingo News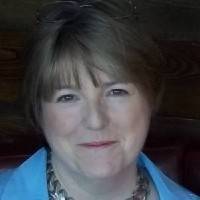 Author And Contributing Editor
Anita is a well-known bingo-lover and has been involved with online bingo since the late 1990's. She has been along for the ride and seen the industry grow and develop into what it is today. She has worked with the biggest names in the industry and has a reputation for being fair and to the point in her writing.
---