Free Bingo Games on Facebook
While online bingo sites are still the go-to place to enjoy a wide range of bingo games, free bingo games on Facebook are still hugely popular amongst many players. The biggest Facebook free bingo games such as Bingo Blitz and Bingo Pop were released more than a decade ago and despite being older games, they are still among the top games available to play on this social media platform.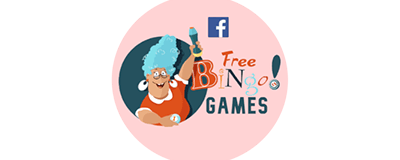 Do you want to know more about the most popular free bingo games on Facebook and how to play them? Carry on reading for all the information you need to get started playing.
A Guide to Free Bingo Games on Facebook
Since 2011, free bingo games on Facebook that can be downloaded on apps and enjoyed on the go from iOS and Android devices have been hugely popular. These games are still as enjoyable to players today as they were when they were first released and many of these games have millions of players who have taken part across the world every day.
What Makes Facebook Bingo Games Different to Normal Bingo Games
Facebook bingo games have a lot of similarities to your standard bingo games and if you are already an online bingo fan, you will have no problem playing this other type of bingo.
While some of the free Facebook games play for real money, many do not, and so you will need to check this before you start playing. What's more, while the bingo format is relatively the same and it is mostly 75 ball bingo games available to play on a 5×5 card, players will have to get cards by purchasing credits, rather than simply making a deposit like at an online casino site.
Normal bingo games also usually let you buy a large number of tickets, while free Facebook games only tend to allow a maximum of four tickets per player.
Both of these types of games have a great community aspect to them and with Facebook free bingo games, you can become part of an online community and speak with other players inside the bingo rooms. Many of the games will also let you team up as part of a club to enjoy multiplayer bingo games.
Facebook Bingo Game Extras
There are added extras to many of these games that make the apps more immersive. When you play bingo games at an online bingo site or casino, you tend to play a single game and once that ends you can either enjoy another single game or finish. With Facebook games, they become more of an ongoing experience where players will play bingo to earn credits, cash prizes and to move through the levels of the game. As you make your way through the levels, you will get access to bigger virtual prizes and more exciting bingo rooms.
Throughout the bingo games, there are also extra elements to help improve the overall bingo gaming experience. This includes collecting points, trophies, treasure chests and more, all of which are designed to help you move through the levels quicker and get more out of the game.
While some of the credits will be awarded for free, if you really want to progress through the game you may need to make purchases that help you get there.
Some people feel that real-world online bingo (if that makes sense) would benefit from adopting some of the more acquisitive aspects of the social bingo games, while others feel that points, trophies and treasure chests should stay firmly within Facebook and the like.
Here we take a look at a few of the most popular Facebook social bingo games and why players love them.
Bingo Blitz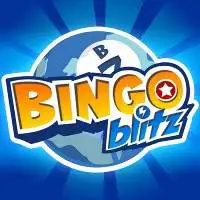 Bingo Blitz is a free bingo game that is available to download as an app on iOS and Android devices by visiting the App Store or the Google Play store. As the number one free bingo game on Facebook, it is not to be missed!
This game was first launched for Facebook back in 2010 and by 2011, over one million people were using it monthly and it became Facebook's top-rated online bingo game. Playtika is the developer behind Bingo Blitz and was founded in 2010. This company has over 36 million active users and when it went public in January 2021, it became the largest listing by an Israel-based company ever. In the world of free Facebook games, it really is unmatched!
Choose your Cards
Players will be able to visit some of the famous cities around the globe in this game to play in bingo and slots daily tournaments and it all starts after you choose a city to play in. The more you play, the more levels you can unlock that can take you to different cities around the world. After you have hit the 'PLAY!' button, you can enjoy playing standard bingo games that will be familiar to anyone who has previously played 75 ball bingo.
Players can choose how many cards they want to purchase before entering the bingo room and for one round, up to four cards are available. Like a standard bingo game, the bingo cards will have 24 numbers in a 5×5 format and the centre box will be free. The numbers on these cards are chosen at random and there are usually between 10 and 15 rounds.
Bingo Blitz Endorsed by Meghan Trainor
As if the game is not famous enough in its own right, maker Playtika has engaged Grammy Award-winning singer Meghan Trainor for their latest Bingo Blitz advert being shown in the US and released some fun, behind-the-scenes footage. We love it because it emphasizes our own mantra that 'bingo is fun' however and wherever you play!
Play Bingo Blitz
The bingo game will then begin and numbers are drawn randomly for you to cross out of your card. The list of numbers called will be on show on the number display board to help you keep track of the game. The aim of the game is simple, either cross out the four numbered corners or a line with five numbers either horizontally, vertically or diagonally. If you manage to get this, hit the 'BINGO' button to claim your prize. Make sure that you definitely do have a bingo, however, as a bad call can result in you having to forfeit your card.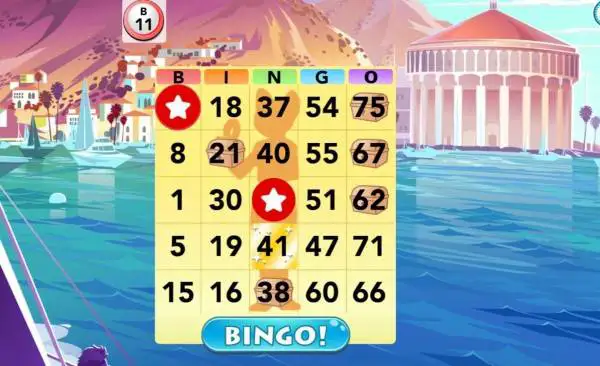 Bingo Blitz Extras
Bingo Blitz has lots of more exciting features than your ordinary bingo game. After a bingo game is over, you can check the round summary screen to open up any treasure chests you may have won during the game. For each game you play, you will collect points that can also be viewed here.
Players are awarded experience points when daubing squares on their bingo cards. It is these experience points that help players climb through the game levels. As you reach higher levels, you will obtain more rewards including credits, coins, power-ups and keys. Power-ups are awarded after charging the power-up meter with daubs. A power-up will be randomly generated for you to use and there are eight in total available:
Supercharger – for the rest of the round, you only need two daubs instead of three to charge your meter up 100%
Money square – one square on your card will be encased in gold and if you daub that square, you will get a random number of coins awarded
Double daub – two squares on your bingo card will be transformed into free spaces
Single daub – one square on your bingo card will be transformed into a free space
Treasure square – one square will be marked with a treasure chest and if you daub that square you will collect that treasure chest and any prizes it awarded after the round
Instant win – this is the most popular power-up as it marks a random square on each of your bingo cards as an instant win. If you daub that square, you have won the game
2x double winnings – double your payout at the end of the round
Double XP – doubles your XP for each successful daub
Bingo Bash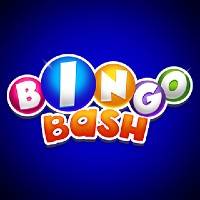 Bingo Bash is a Facebook free bingo app that can be downloaded on iOS and Android devices. This game has over five million fans and players can enjoy a range of both classic and special bingo games. There are also mini-games and power plays to make your bingo experience even better. This game was released in 2011 by The Vegas Team and is simple to play. It is another bingo game where you will find yourself in different famous locations around the world and some of the most popular games available to play include Wheel of Fortune Bingo and Deal or No Deal Bingo.
Choose Your Cards
Bingo Bash mostly offers your standard 75 ball bingo games and players can get bingo cards with the 5×5 grid featuring 24 numbers and one blank square in the centre. Bingo cards are purchased using chips and up to four cards per game can be bought. Once you are ready, you can get started playing bingo in one of the rooms. Up to 100 players can be present in a bingo room.
Play Bingo Bash
Playing Bingo Bash is easy. Once you have bought your cards, you can get started and the goal is to mark off the numbers as they are randomly called out. These numbers will appear to the left of the screen. Players will be looking to get a horizontal row, a vertical row or a diagonal row. When this is achieved, they can hit the bingo button to claim their prize. Once the game is over, you will be taken to the next screen detailing how many experience points and coins you earned.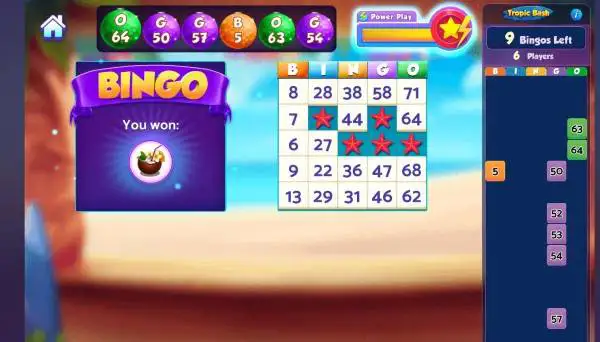 Bingo Bash Extras
Each time a number is daubed, players will earn experience points. To the side of the game is a power-up meter and this will fill up with the experience points that are collected. When this meter is active, players will receive random bonuses including double experience points, instant bingo, gems and more. Just like other Facebook free bingo games, the bonuses will be added to the bingo cards, waiting to be won when numbers are marked off.
Monopoly Bingo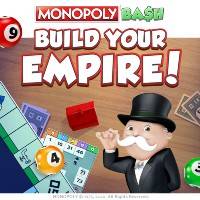 One of the most popular Facebook bingo games was previously Monopoly Bingo but this game was discontinued in 2014.
However, the good news is that it is now available to play again through Bingo Bash.
Monopoly Bash combines exciting bingo games with everyone's favourite board game, Monopoly. Players can enjoy this game on the go on both iOS and Android devices.
How to Play Monopoly Bash
To get started playing Monopoly Bash, the bingo game comes first. The animation in this game is superb and Mr Monopoly will even be there to help you daub numbers as they are randomly called and displayed to the side of the cards. This is a 75 ball bingo game where you will receive a 5×5 card filled with numbers and only one blank space in the centre of the card.
Monopoly Bash is a cool and unique bingo game where each time you achieve a bingo win, you will not only get your cash prize but you will also get to roll the dice of the monopoly board. What's more, you even get to choose your Monopoly board piece. As you roll the dice and play the board game, you can collect properties, pass GO and, just like the real game, you can even build the all-important houses and hotels.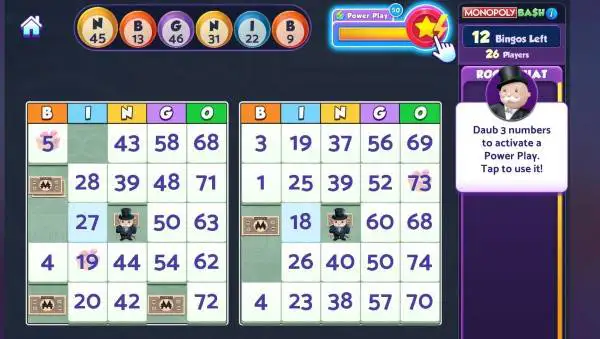 Bingo Pop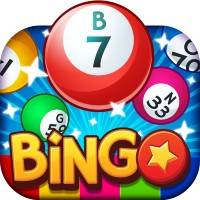 Bingo Pop is a free Facebook bingo developed by Jam City that is available to download on iOS and Android devices. Players can make their way through over 100 levels and 15 bingo rooms to get big rewards. There is no real money to be won in this game but it offers lots of fun with leader boards to climb, speed bingo games and live bingo games. With over 10,000,000 players already playing Bingo Pop, this is a fan-favourite Facebook bingo game that players are sure to love.
Choose Your Cards
Getting started playing Bingo Pop is easy. Players can visit the main lobby and go to the card selection screen where you can choose how many bingo cards you want and also how many cherries you would like to bet. The more cherries you bet, the higher the payout will be. The cherries will also allow for four bingos on one card, also known as mega bingo, and more puzzle pieces can be added to each card. Once your bet is set, hit the PLAY button to get started.
How to Play Bingo Pop
The story to the bingo battle game is that you are defending city monuments from attack by playing live bingo, earning points and then using those points to build up your city. During bingo games, you can also collect shields that will help you defend the cities from attack and once the monuments are defended, you can move on to the next city.
This plays like any standard bingo game where you will mark off the numbers on your card as they are randomly called. Once you have got bingo, you can hit the bingo button to claim your prize.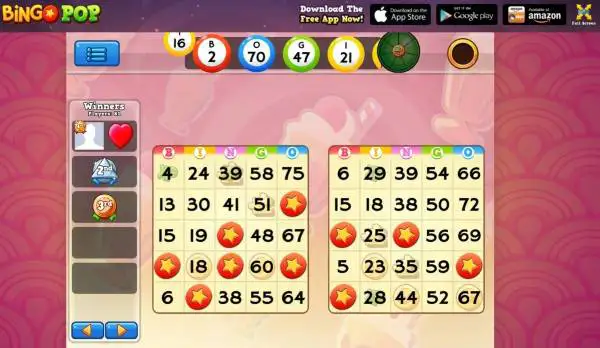 Bingo Pop Puzzles
Inside the bingo rooms, there will be puzzles available for players to complete that can award cherries. These puzzle pieces are collected by marking off the bingo card puzzle tiles and then adding them to your puzzle. The more pieces of the puzzle you add, the more of the puzzle you will be able to complete. Once a puzzle has been completed, you'll be rewarded and the available rewards can be found on the puzzle screen.
No matter which free bingo game you choose, you are sure to have fun completing the bingo games, getting extra rewards and unlocking levels to complete the game.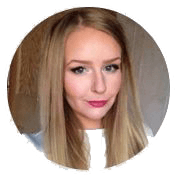 Author
Jennifer is a writer with over five years of experience in the online casino industry. She has a First Class Honours in Media and Journalism and specialises in writing online casino reviews, slot reviews and gambling news content. Digital marketing, SEO and public relations are also other areas of interest for Jennifer and she has worked across these industries before setting up her own content company.