Best Crash Gambling Games & Sites UK
One of the recent online casino revolutions has been the rising popularity of Crash Gambling. This exciting format of an arcade-style game lets punters place a stake and then try to cash out for a multiplier win before a randomly-generated 'crash' event happens. 
On this page, we look at Crash Gambling in closer detail and explore some of the best places that UK players can go to play it.
Crash Gambling Games UK
There are a lot of online casinos in the UK that provide Crash Gambling. It's the current big thing in online casino play and will only become increasingly popular. There are a few variations of Crash Betting Games, which is still a relatively new feature. But you can find some different formats depending on what site you look at.
Here are some of the most common Crash Gambling UK games:
Cash Or Crash
Arguably, the biggest Crash Gambling title, distributed by major gaming software provider Evolution puts a little spin on the Crash Gambling format. It uses a lottery-style set-up, where green balls boost the multiplier, but a red ball causes the crash. The game also features a partial cash-out option.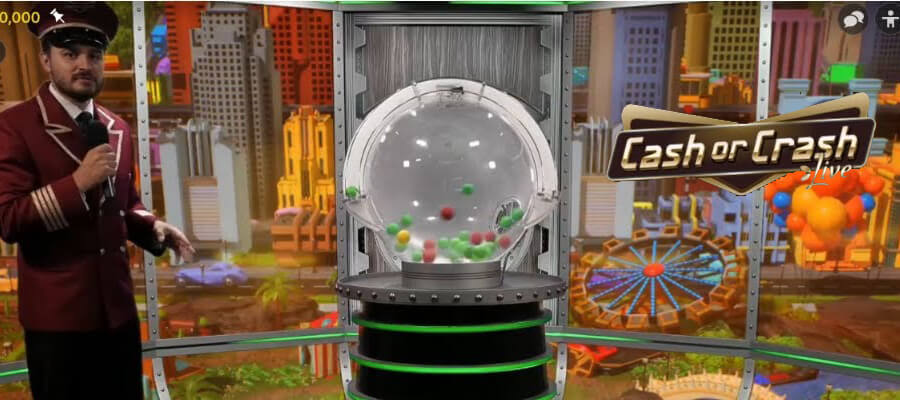 Aviator
This Crash Game is based on aeroplanes, as quite a few are. A simple chart is replaced with a graphic of an aeroplane taking off, and instead of it crashing, at some point, it will just zoom off the screen and end the game. Very similar games are F777 Fighter and Maverick.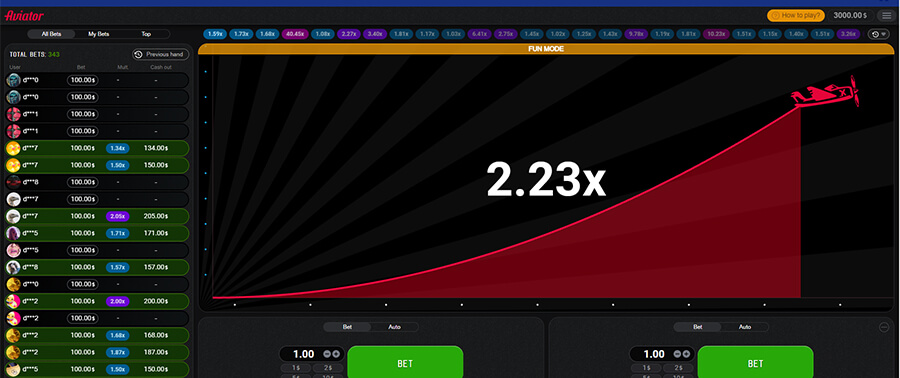 Live Dealer Crash Gambling
It is possible to find live dealer Crash Gambling games at UK Casino sites. That means that a community of players is pulled together for a game. While that can boost user engagement, it can also mean that you start being competitive against other live players, which can put extra stress on your cash-out decisions.
Cryptocurrency Crash Gambling
If you search the internet, you will see many crypto Crash Gambling sites. UK-fronting online casinos cannot accept cryptocurrency from UK players as per rules by the UKGC.
What is Crash Gambling?
Crash Gambling is a luck-based game. There are no practical gambling skills that you can put towards it, so it's sort of like the roll of a dice. The outcomes are entirely random, and it all boils down to your risk assessment on a game, but with a nice mix of just how patient you can be.
The bettor determines how much stake to play. A countdown will appear to let players know when the next game is about to start. Then the drama and excitement begin, with the multiplier amounts rising as time progresses.
The key thing about Crash Gambling games in the UK is that the round gets more and more valuable the longer it drags on as the multiplier builds. The bettor knows that the game will end in a Crash at some point, but how long do you wait, and how low will you settle to try and lock in a return?
Tracking the results of previous Crash Gambling games will not afford you the luxury of looking into stats. The control over the game is not there, as the only thing the punter controls in Crash Gambling UK is trying to pick the right moment to bail from the game. Games are also quick, raising the tension and the stakes quickly.
Crash Games will run on a home computer, laptop or mobile. Unlike a mobile website version, you may get a better, smoother experience on a dedicated app if one is available.
---
What is the difference between Crash gambling and normal gambling?
Is there such a thing as 'normal gambling we should ask? Anyway, "Crash gambling" and "normal gambling" are terms used to describe different types of betting or wagering activities, often associated with online gambling platforms and sites. Here's an overview of the differences between the two:
Game Mechanics:
Normal Gambling: In familiar gambling scenarios, such as casino games like slots, blackjack, poker, and roulette, players wager money on the outcome of a game or event. The outcome is determined by chance or a combination of chance and skill, depending on the game. This could be the draw of a card, dice rolls, or the spin of a wheel as just a few examples.
Crash Gambling: Crash gambling is a relatively new concept, often associated with cryptocurrency gambling platforms. In crash gambling, players wager on the outcome of a rapidly changing multiplier value scenario. Bets are place before the multiplier starts increasing, and the player must attempt to cash out their bets before the multiplier crashes (stops increasing) to win the corresponding payout. The multiplier curve resembles an exponential graph, and players must decide when to cash out to maximize their winnings before the crash occurs.
Outcome Determination:
Normal Gambling: Players have limited control over the outcome, and chance plays a significant role, with some skill and strategy thrown in depending on the game, such as with poker.
Crash Gambling: The outcome of crash gambling is determined by a computer algorithm that generates the multiplier curve. The algorithm calculates the multiplier's value over time, and the crash point is unpredictable. Players must time their cash-outs effectively to avoid losing their bets. This means the outcome for the player is usually sheer luck.
Risk and Reward:
Normal Gambling: Traditional gambling games come with varying levels of risk and reward, depending on the game's rules and odds. Players can often choose the size of their bets and make strategic decisions to manage their risk.
Crash Gambling: Crash gambling typically offers high-risk, high-reward scenarios due to the exponential nature of the multiplier curve. Players who cash out early might secure smaller winnings, while those who wait too long risk losing their entire bet if the multiplier crashes.
In summary, the main differences between crash gambling and normal gambling lie in the game mechanics, outcome determination, level of skill involved, and risk-reward dynamics. It's important for individuals to understand the nature of these activities and the potential risks associated with them before participating.
---
How to Play Crash Gambling Games UK
Crash Gambling is very easy to play. The game's mechanics are simple, making it accessible to beginner players. Crash Gambling games, which are luck and not skill, started to gain massive popularity in 2022. Here is how to get going with the Crash Gambling craze:
1. Find a reputable Crash Gambling UK site
You will want to find a reputable Crash Gambling UK site. Look through the list of operators on this page and try some out. The vital thing to look for at any Crash Gambling platform is that it is a licensed and regulated casino site.
2. Crash Gambling Bonus
If you are looking for an online casino that hosts Crash Gambling, there are usually reasonable welcome bonus offers to snap up. During the registration process, look around to see what welcome bonuses the casino has available for new players.
It could be free spins on regular slots or bonus cash. See if it's viable for you and whether there is a bonus code to use, what the qualifying deposit is and, importantly, the wagering requirements of the deal.
3. Place A Stake
Crash Gambling games will vary in appearance, but they all run on the same premise. Find one that looks appealing to you, and then open the game. Then place your qualifying stake.
4. Place Your Cash Out Option
You then have to place a line on the chart of when you want to cash out. This can be anywhere you want. The longer you are prepared to wait, the more considerable the multiplier. The game plays into the 'buy low, sell high' trading ethos.
5. Bet Settlement
Then it is just watching the game to see its conclusion. If the game chart continues to rise and reaches your cash-out line, you will get your stake back, plus the multiplier value you chose to cash out at. But wait too long, and the game crashes before it reaches your line, and then you lose your stake.
Best Sites for Crash Games UK
Many good UK Crash Games sites are available to explore, and here are some recommended ones. It's worth looking at these online casinos because they are all licensed and regulated by the UKGC. They are also highly rated for the overall online casino experience, plus other essential aspects like payment methods and customer service.
Casushi – A good UK online casino site which is very user-friendly. They boast an excellent 100% welcome bonus for new customers as well. Cashushi has the big Cash or Crash Live game, plus a multiplayer Crash Out feature.
Spinyoo – Evolution Gaming's Cash or Crash is available at Spinyoo, as is the Aviator game by Spribe, so there are good options here. Spinyoo has a 100% deposit bonus for new customers containing bonus cash and free spins.
Stake.com – There are some excellent casino options at Stake.com, which are worth checking out by UK players. They are a trusted, secure platform.
Bet365 – One of the biggest and best UK online casinos is Bet365, with an excellent app. They have the hugely popular Aviator Crash Gambling feature, plus a massive range of slots.
Barz – The Barz UK casino is partnered with leading software providers like NetEnt, Microgaming and Red Tiger to provide a quality gaming experience.
Betway Casino – A good site for Crash Gambling. They are one of the leading casino operators in the UK and boast an excellent native mobile app.
Crash Gambling Strategy
As mentioned, Crash Gambling is a game of luck produced by a random number generator. You can't determine when the next one will be, and the previous results have no bearing on the following result.
So, players are left with a couple of Crash Gambling strategies. Either try to play it safe by lowering the cash-out line or going high. Picking the former strategy would allow you to try and work towards smaller, more frequent payouts from the game, perhaps staying around the 1.2x multiplier lines.
Alternatively, going big ramps up the multiplier drastically, but the longer the game goes on beyond the likes of 1.6x and 2x lines, the greater the risk that the crash will happen.
While there is no real strategy that you can put towards it, it can still be a fun and challenging game. You may have to roll with your gut instinct from round to round because it is all random.
What are the best Crash Gambling Games?
People will have their preferences about what the best Crash Gambling games are. It's a good idea to shop around at the best casino sites and check out the options that they have available for this type of gaming format.
You may prefer the simple Stock Market-type visual approach or prefer to go with one of the many aviation-themed Crash Gambling games. The multipliers will not vary wildly, and most will have an AutoBet or Manual Bet option.
Some Crash Games may have big 8x multipliers, and some, like Cash Or Crash, have a unique feature where you can get a 'shield' protecting you from a crash once during the game. Exploring different online casinos is a great way to find the best Crash Gambling games.
New games are appearing all the time, with the latest in July 2023 being an innovative move to the depths of the ocean instead of looking to the skies. Kalamba Games has released Deep Rush – a game where players dive, dive, dive, but you are betting against being eaten by a very antagonistic shark the deeper you go. The COO and co-founder of Kalambe Alex Cohen summed up the game, the Crash genre and the Kalamba philosophy when he said,


Responsible Crash Gambling
As with any online gambling, responsible practice is needed. The games can come at you thick and fast, so always control your bankroll first and foremost. Be ready to walk away when the time is right.
It's an entertaining casino game of sheer luck and nothing else, so always bet what you can afford to lose. There will likely be good hot streaks that you go on, but those will get balanced out with losing streaks.
Never chase losses, and don't use gambling to solve financial problems. Set your limits, and use tools like deposit limits and self-assessment to continue to enjoy Crash Gambling safely and responsibly.
Crash Gambling FAQ
What is Crash Gambling?
It is an online casino game of luck, where the value of potential return rises rapidly before ending in a sudden crash. To win, the player has to try and cash out on their stake before the crash happens.
Are Crash Gambling games easy to play?
The primary gaming mechanics of Crash Gambling is very straightforward. It's placing a bet and then deciding when you want to cash out the wager. The difficulty is in beating the crash.
How can I win at Crash Gambling?
It's a game of luck, and there is no guaranteed way to win. The Crash in a game is randomly generated, so there's no way to predict what can happen. You will win and lose games at Crash Gambling.
Is Crash Gambling legal in the UK?
Yes, it is. Find a casino site in the UK regulated and licenced by the UKGC, and as long as you are of legal gambling age, you can play.
Can I use cryptocurrency Crash Gambling?
Not in the UK, no. Payment options like PayPal and Apple Pay can be used to fund accounts, but the UKGC does not regulate crypto.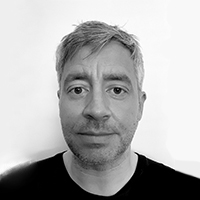 Author
Scott is an experienced betting and casino content writer supplying content to major bookmakers and several betting websites. His passions are horse racing and Scottish football, and he's a regular attendee at racetracks at home and abroad.