Different Bingo Games Explained
One of the things we all love most about bingo is its simplicity. It doesn't matter if you're playing online or offline, bingo is easy to learn and you don't have to spend time memorising strategies, learning complicated rules or practising your poker face. Having said that, there are a few different variations of online bingo and if you're new to the game it can be difficult to know which one to play first.
While you'll find dozens of different rooms and games at most bingo sites, bingo can be loosely divided into three variants – 90 ball, 80 ball and 75 ball bingo. You'll also find newbie bingo, speed bingo and progressive bingo, with so many themes and styles it's impossible to count. While they all follow the same basic principles, there are some differences between the games that you'll need to get to grips with. Read on for our complete in-depth guide to the different basic bingo games.
90 Ball Bingo
If you're playing online in the UK or at a land-based bingo hall, 90 ball bingo is the game you're most likely to come across. Like other bingo games, you start by purchasing your tickets, then mark off the numbers when they're called (pro tip: use the automatic daubing feature so you don't miss any!).
90 ball bingo cards are laid out in three rows and nine columns, with five numbers on each line. When you play 90 ball bingo the objective is to complete horizontal lines. Each line is a chance to win and the prizes usually get bigger the more lines you have. Eventually, someone will get a full card – the full house – and the game will end.

Because it's so similar to land-based bingo, 90 ball bingo is a great choice for players who are new to the world of online bingo but may have played at a bingo hall before. There are plenty of variations on the standard 90 ball theme, including progressive jackpot bingo and various themes and styles to choose from so it never gets boring. There is the potential for some big prizes and a lot of entertainment when you play 90 ball bingo online.
80 Ball Bingo
Often seen as the bridge between 75 ball bingo and 90 ball bingo, 80 ball bingo is becoming popular in its own right. Also known as Party Bingo or Seaside Bingo, where you used to cover numbers with bottle-tops in the arcades before the days of the plastic sliding closures and online bingo!
When you play 80 ball bingo, the first thing you'll notice is that the numbers are in a grid of 4×4 and there's a different colour for each vertical line. What's different about 80 ball bingo, apart from the fact there are 10 fewer numbers than 90 ball bingo, is that you don't just need to get a line to win. With 80 ball bingo, the emphasis is on making patterns or getting that ever-elusive full house. Sometimes lines can be completed diagonally or vertically as well as horizontally, which keeps things interesting and as an added bonus, boosts your chances of winning.

Before you start playing 80 ball bingo it's important to check the rules, so you know which patterns you need to make before you get started. This will usually be shown at the beginning of the game so pay attention!
75 Ball Bingo
While 90 ball bingo is the traditional bingo hall game in the UK, if you venture over to the US or play at a US based bingo site, you'll need to get to grips with 75 ball bingo. While it's still more popular in the US than the UK and Europe, most casinos and bingo sites offer at least one or two variations on this well-known game.
In 75 ball bingo, the cards all have 25 squares, laid out in a 5×5 grid. Unlike 90 ball bingo, you don't complete lines or the full card to win, it's more like 80 ball bingo in that you need to make patterns. The patterns are varied and change with each game. Because there are so many different possibilities, 75 ball bingo can be a lot more interesting than 90 ball bingo although you do need to pay attention to make sure you don't miss a winning pattern.
Other bingo variants
While there might be three main variants of bingo, you'll also come across a range of other bingo types when you play online. They may be a little less popular than 75 ball, 80 ball and 90 ball bingo but they're still worth a look, especially if you're on the hunt for something a little bit different.
30 Ball bingo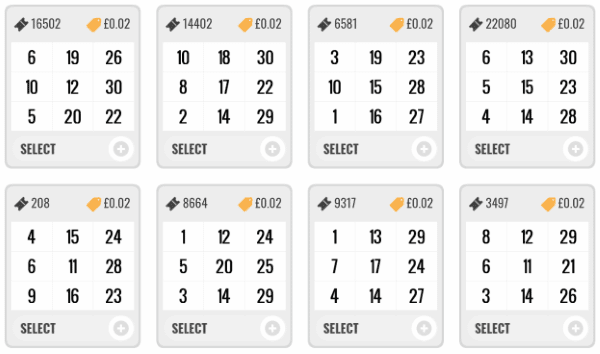 30 Ball bingo is relatively new to the online bingo scene. You have nine squares, laid out in a 3 x 3 format and no blank spaces. Because there are so few numbers, 30 ball bingo is a quick game, which appeals to players who don't have a lot of spare time. It's also great if you're completely new to bingo and just want to try out the game without committing to the full-length version.
5 Line bingo
Also known as Swedish Bingo, five-line bingo has, you guessed it, five lines. With 75 balls, it varies somewhat from the standard 75 ball bingo in the way the numbers are ordered and how the cards are laid out.
The word BINGO is written along the top, and each letter corresponds to a column. Each column has a random selection of numbers from a pre-set range, for example:
B has five random numbers from 1-15
I has five random numbers from 16-30
N has five random numbers from 31-45
G has five random numbers from 46-60
O has five random numbers from 61-75

You win by marking off lines of numbers. There is some variation between different games but generally speaking, you can win with horizontal, diagonal or vertical lines and the winnings get bigger the more complete lines you mark off. Unlike normal pattern bingo 75 ball cards, the centre square is not free.
Progressive Bingo
If you've ever played online slots you'll have heard of progressive slots, where the jackpot keeps on building until one lucky player wins the whole lot. Believe it or not, they also have progressive bingo. Progressive bingo plays like standard bingo and keeps going until someone gets a full house. With progressive bingo, however, it will be highlighted that there is a much bigger 'progressive jackpot' to be won for calling in a pre-set limited number of balls drawn. If nobody wins within that number of calls the game carries on and the jackpot is rolled over to the next game. This continues and the jackpot keeps on building up until eventually one lucky player wins within the designated number of calls and the jackpot reset to its base amount.
While progressive bingo has the potential for a bigger payout than other bingo types, the downside is that it's much harder to win.
With so many bingo sites offering different games, it seems there is no end to the options available. Themes and styles are limitless and it's common to find games based on popular TV shows and movies, other popular culture references and much more. While they might look different, most bingo games are based on one of the three main types and the gameplay will be pretty much the same. Once you've grasped the basics you'll be able to enjoy all the variety that online bingo has to offer.