How to Play Online Bingo – A Guide for Beginners
If you are making your first foray into the wonderful world of online bingo and you've decided you want to find an online bingo site to join, then you've come to the right place. On this page we have gathered together everything you need to know in order to get started and join the millions of happy players all over the world.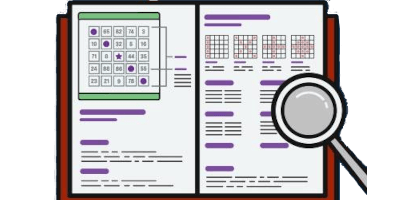 I'm new to online bingo! Where do I start?
1. Choosing an online bingo site
WhichBingo is the ideal place to begin your quest to find a reliable, trustworthy, and enjoyable online bingo site to join. We verify the safety and integrity of the sites we feature, so you can choose an online bingo destination with confidence.
Have a browse through our site listings and check out all the different welcome offers that are available to new players. You'll see that sites offer a range of exciting bonuses when you make your first deposit!
There are a few things to look out for when assessing the bonus offers at various sites:
Do you have to deposit £5, £10 or more to qualify for the bonus?
Do you receive free spins on the site's online slots as well as bingo bonus?
Are there any wagering requirements?
If there are wagering requirements, at what level are they set?
Most of the answers to these questions will be covered in WhichBingo's review of the site as well as being shown in the site's basic terms and conditions.
2. How to open an account
Once you have chosen a site you're excited about, it's time to open an account. This involves submitting some details so that the site you've chosen can verify you and allow you to join the fun.
Registration
Most registration forms at online bingo sites take a matter of seconds to complete and will often auto-fill for you if you have that function set up on your device. You will usually need to submit your name, address, date of birth, and whether you want to receive marketing communications.
Almost every bingo or slot site will require you to input a payment method of some kind at the outset. This is so the site can verify your age, as any player must be 18 years or over.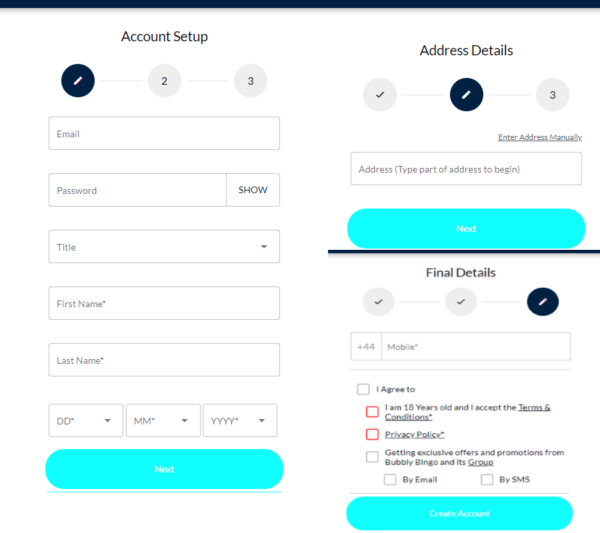 Verification
Most sites tend to request further verification of identity during the sign-up process, in order to make the withdrawal process smoother when it comes to claiming your winnings and to ensure they are fulfilling the Know Your Customer (KYC) legal requirements.
We won't lie, it is a pain, and the fact that most have to be less than three months old means that if you have a gap between finding sites you want to play at, you have to keep refreshing your documents to upload. Sometimes you won't be able to access bonus winnings until they have verified everything.
If the site you are joining asks for additional verification documents, you can usually use one or more of the following:
Valid passport
Valid driving licence
National ID card
Header of a bank/debit card statement*
Header of a utility bill (gas, electricity, water, phone, council tax) *
Letter from Inland Revenue/DSS/DWP*
* Usually these documents must be dated within the last three months unless you are providing an annual statement.
It is now necessary for most sites to obtain proof of income too so they can satisfy the authorities that they are following due diligence when it comes to anti-money-laundering – a major problem in online gambling circles. The majority of players are totally honest and playing for fun and entertainment and the sites know this, but they have no choice but to undertake the same checks on everyone.
You can usually scan these in or take a photo and email them to an address provided by the site. It is also becoming more frequent that sites have a facility to upload directly to them without having to send a separate email.
2. How to choose a payment method and provide payment details
For obvious reasons, online bingo sites want to make it as simple and straightforward as possible for you to make deposits.
There will usually be a good range of payment options including all the major debit card providers as well as Paysafecard and Paypal, Skrill and Neteller, Trustly, ApplePay, and even options to pay by phone or via your mobile phone bill.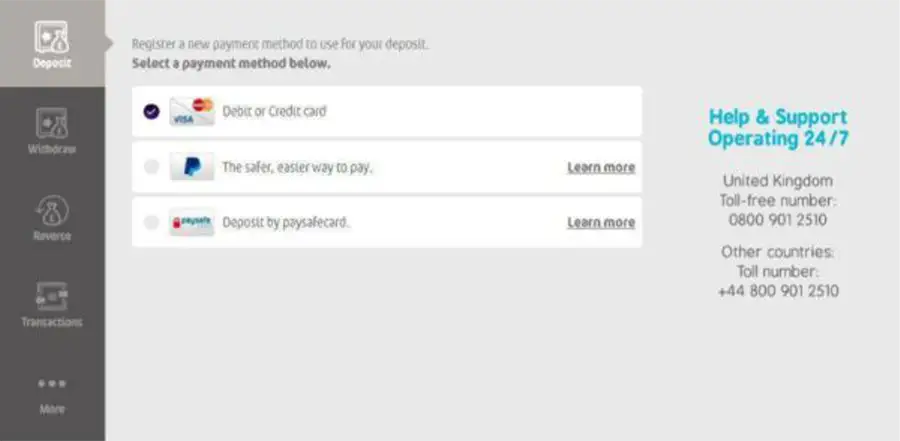 Some payment methods may incur charges, and some sites may charge a transaction fee for deposits and/or withdrawals. It is always important to read the significant terms and conditions that will accompany any offers, as any fees will be highlighted there.
It is also worth checking the terms to see if any deposit methods exclude you from being eligible for the welcome offer. For example, we often see Skrill and Neteller mentioned as not qualifying for offers.
Responsible GamblingAt this point it may also be worth checking out any 'safe play' features the site has in place, such as setting a deposit limit, or a time keeper that will let you know how long you have been playing at the site after a set period of time.
See if it is possible to self-exclude or take a break if you decide you need to.
4. How to use the lobby and choose a bingo room
Once you have funds in your account, it's time to start playing!
At many sites, the bingo lobby will open in a different screen and display navigation tabs or a list of rooms so you can decide what you want to play.
Headings might include:
Live Bingo/Free Bingo/Pre-Buy/Specials/Slot Games
Or it may be a simpler layout that offers:
90-Ball/75-Ball/Slots
Different software providers have their preferred methods when it comes to displaying the bingo lobby.
Dragonfish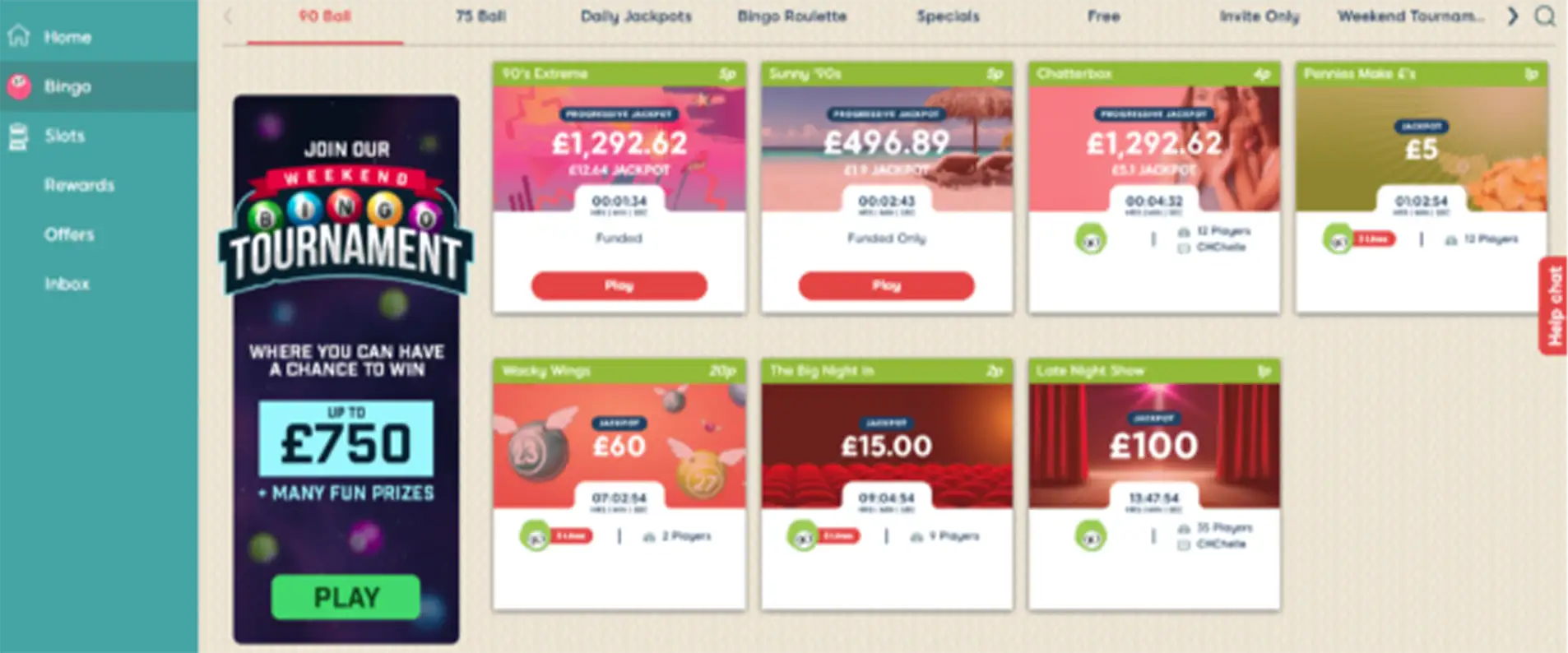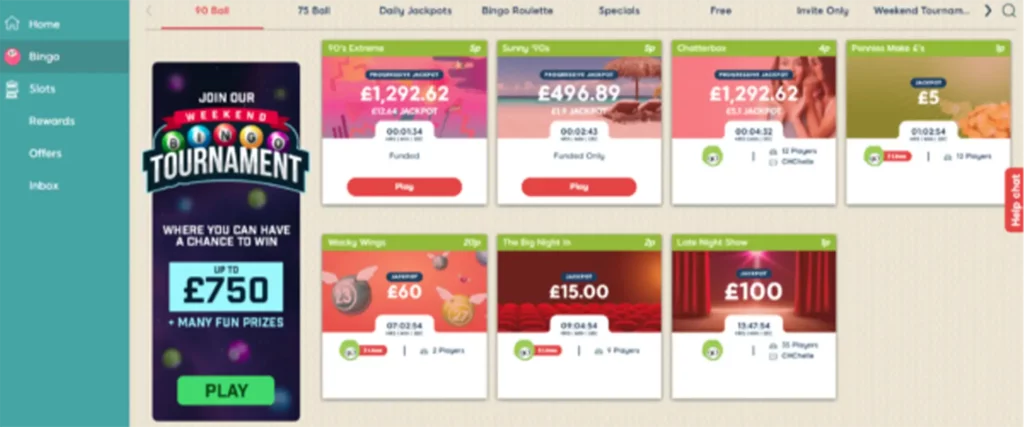 Playtech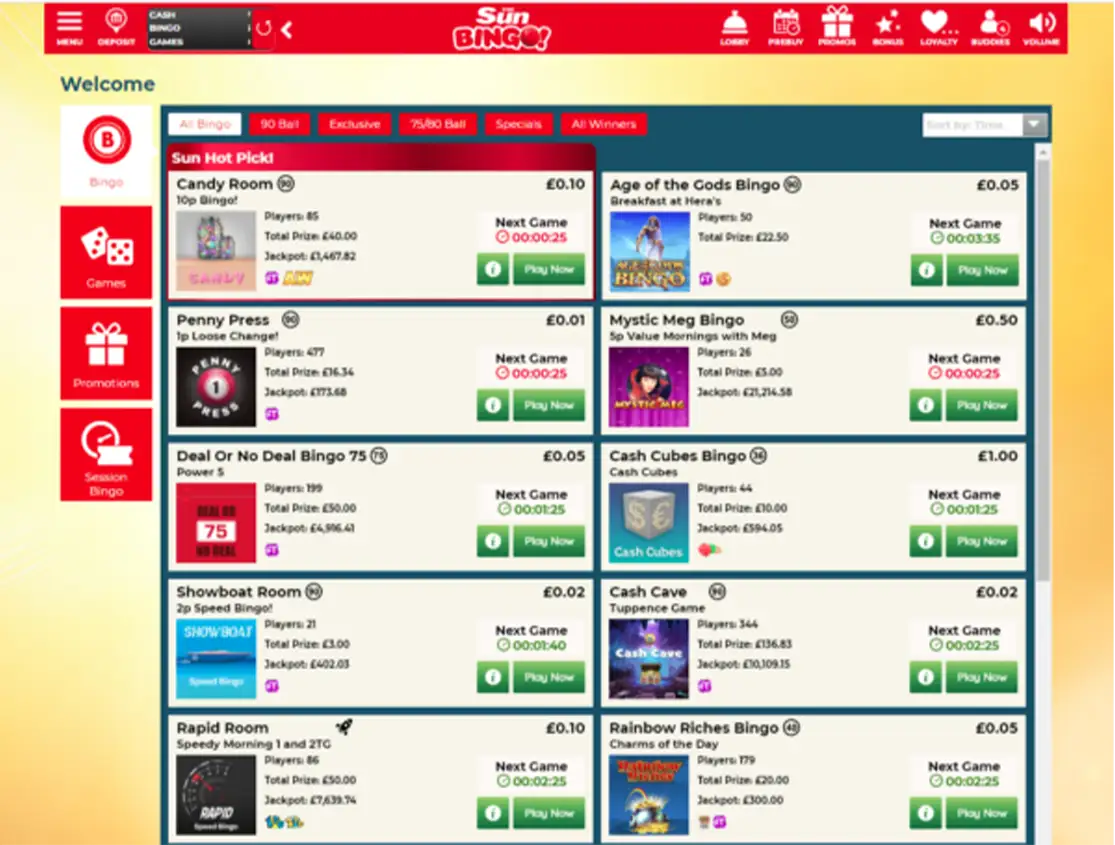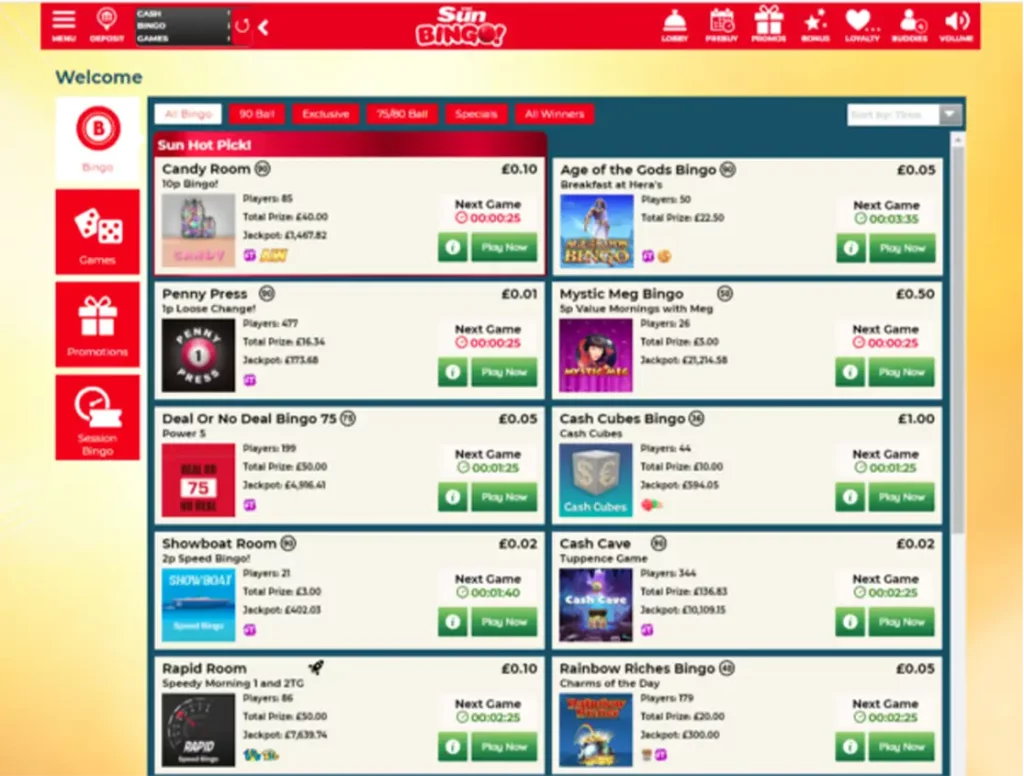 Pragmatic Play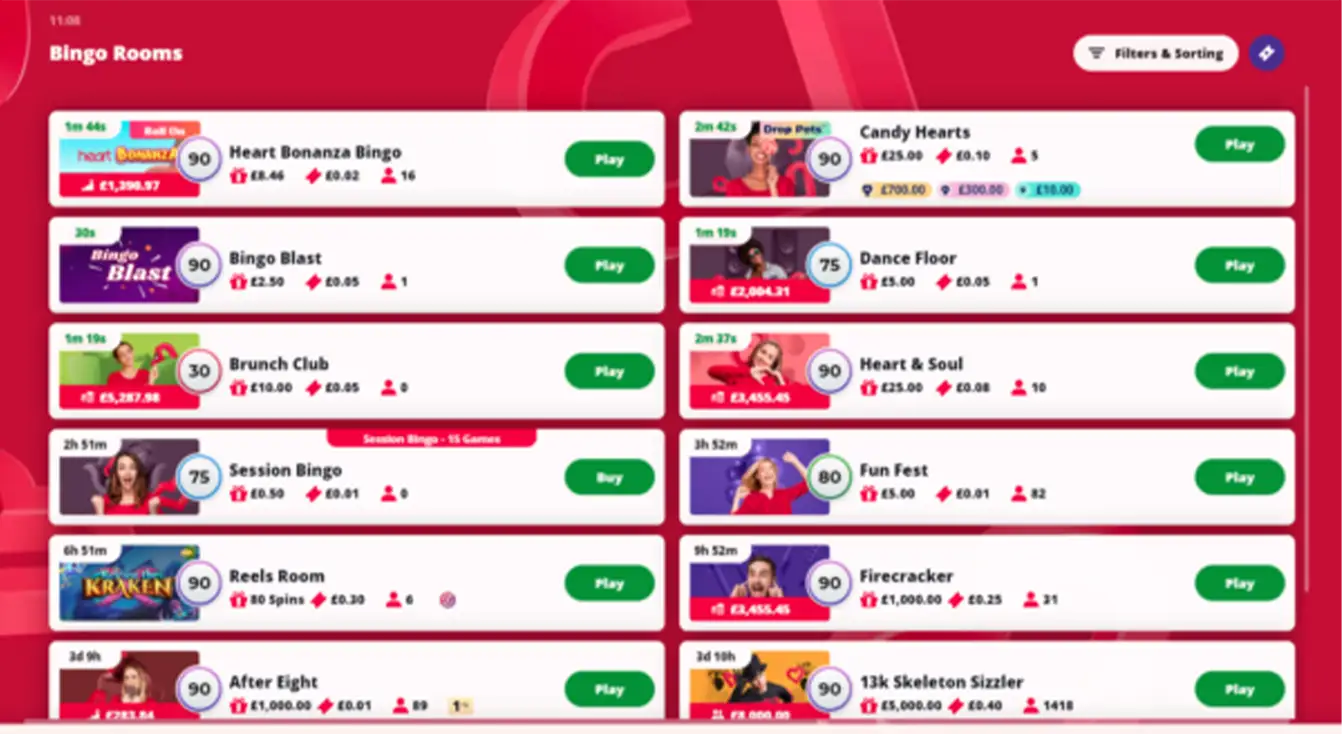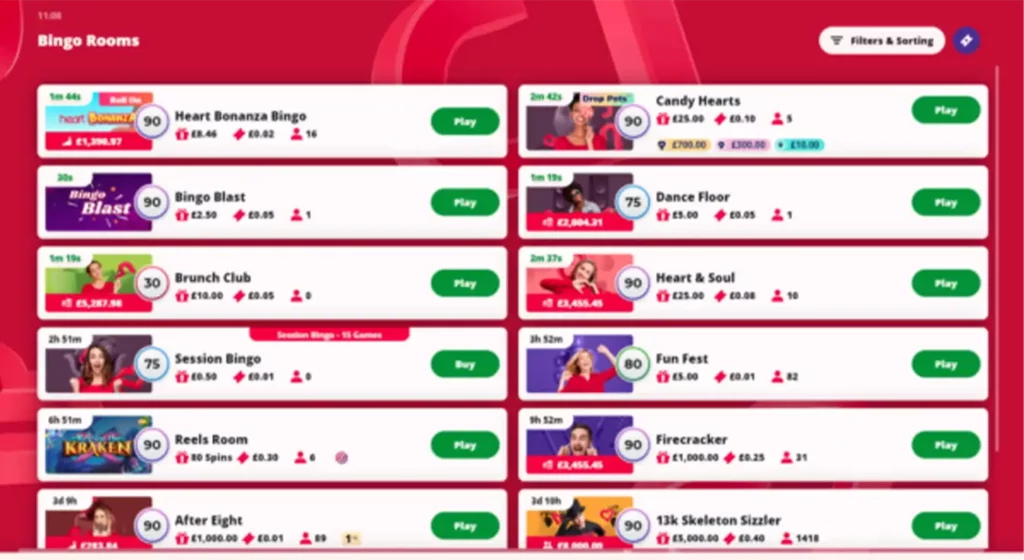 Gamesys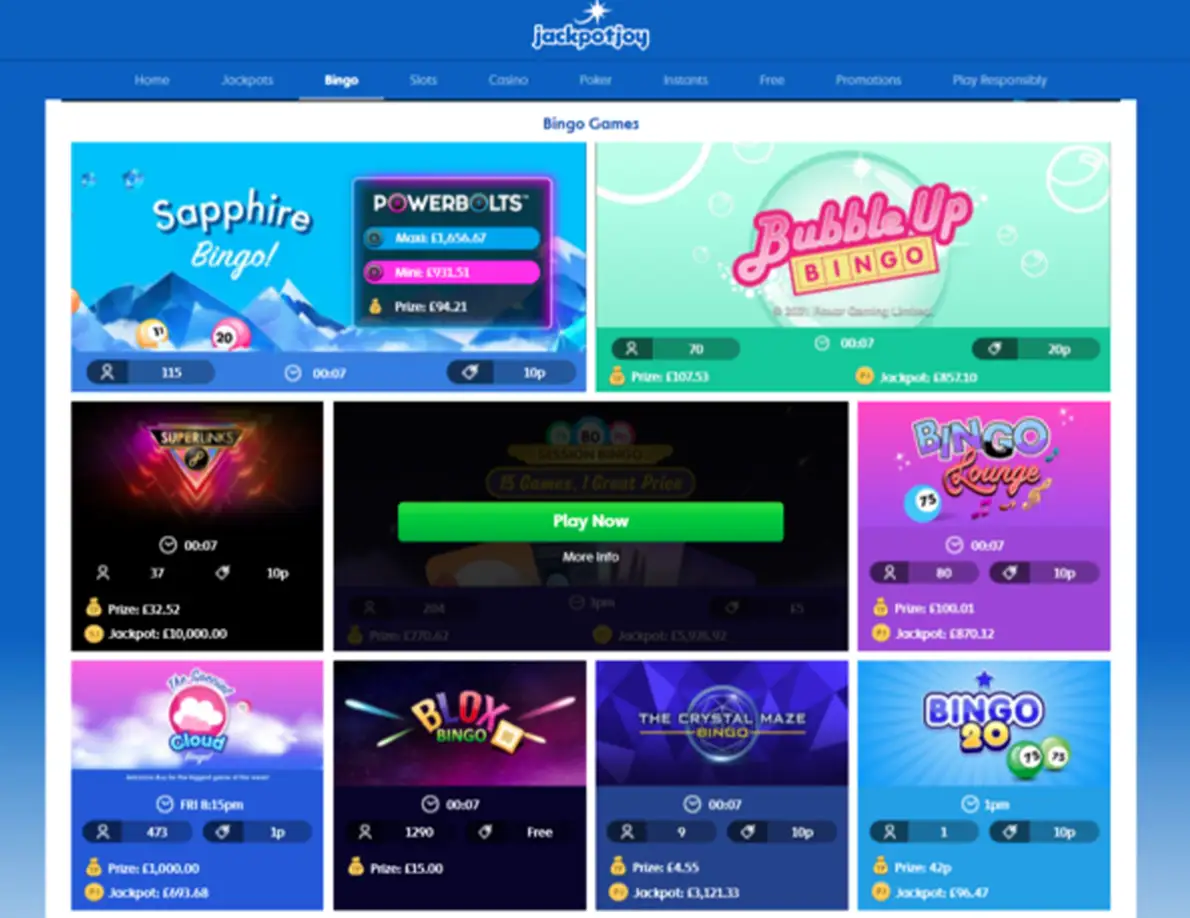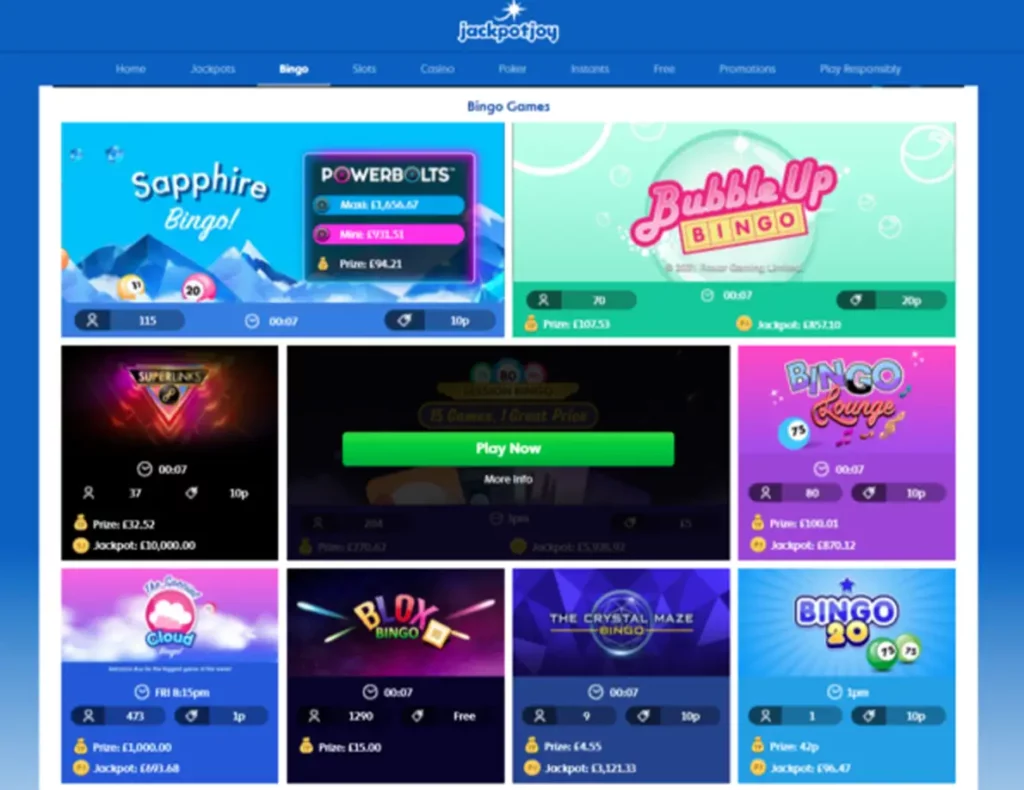 All you have to do is choose a room to play in and away you go.
4. How to choose and buy bingo tickets, including pre-buying if available
Once you've joined a bingo room, you will see various ways to buy tickets. There may be a set number for you to choose, such as batches of six, eight or 12.
There may also be an option that says 'max' which would automatically select the total number of tickets available to you for that game, and this could be anything from six tickets to hundreds, depending on where you are playing, so take care when choosing this option.
However, most sites ask for a second confirmation before your purchase is confirmed, so you won't mistakenly spend all of your deposit on one game.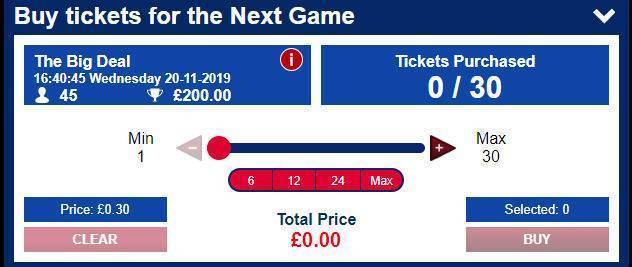 There are not many online bingo sites that actually let you choose your own tickets nowadays – they are almost always allocated automatically.
Some online bingo sites allow you to 'pre-buy' your tickets, and there is usually a schedule page where you can choose how many tickets you want to buy and for how many games. This will reduce your balance immediately by the total of your purchases, and you can then log out if you wish to, safe in the knowledge your games will play out and any winnings will be credited to your balance.
6. How to play the bingo games
Some sites only offer 90-ball and 75-ball bingo games, while others offer a wider variety including 80-ball bingo, 50-ball bingo and 30-ball bingo. Playtech and tombola have developed even more varieties beyond those mentioned above, so there is always something new to try. Check out our full list at the bingo games page and see which games tickle your fancy.
When starting out, you might be best with 90-ball or 75-ball bingo.
90 Ball BingoIn 90-ball bingo, you have a set of tickets each of which is made up of 15 numbers, with three lines and five numbers to each line. The tickets will contain numbers from 1 to 90.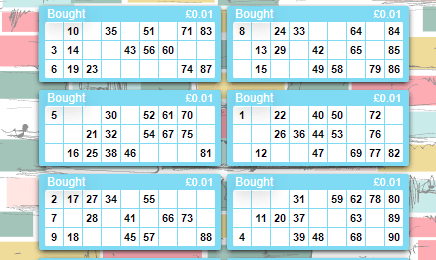 When the game starts, an automated random number generator delivers the numbers one at a time and you will see the numbers marked off your card automatically. The tickets will usually shuffle themselves during the game so your best ticket (the one closest to a win) is at the top. The tickets will also usually show how many numbers you have to go until you can win.
There are usually prizes for a one-line win, a two-line win and the full house. There may also be a progressive jackpot available for calling a full house within a certain amount of numbers.
75 Ball Bingo
In the 75-ball game, each ticket is made up of five lines and five columns. In some cases, the middle square is given free. 75-ball bingo can be played as 'pattern' bingo or 5-line bingo.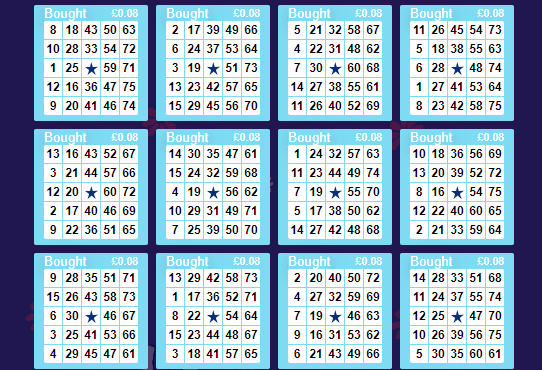 With pattern bingo, the numbers called will have to make up a specific pattern in order to win. Common patterns include picnic table, boot, sailboat, sun, dog bone and so on – easy patterns that can be made by filling in squares. The first player to complete the pattern from the numbers called wins.
With the 5-line version of the game, there are prizes for being the first to complete each line from the numbers called, giving you five chances to win.
What do you win?
The amount you win in online bingo, known as the 'payout' is usually determined by the cost of each ticket, the number of players in the game, and how many tickets each player has purchased.
Each purchase results in a portion of the ticket price going into the prize fund and some of it going to the progressive jackpot if there is one. This means that the prize in each game will vary depending on the number of tickets sold.
Some bingo sites have rooms with 'seeded' pots. This means that they set the prizes at a specific level based on the price of the ticket. So, while there is a lower level for the prize, if a lot of players buy in then the prize pot can grow.
Many sites run guaranteed jackpot games, often with tantalisingly high prizes. These are often run as promotional games on a weekly or monthly basis, and they offer players the chance to win some big money.
Progressive jackpots are a bit harder to win. Sites set the number of calls required to win their progressive jackpots at different levels.
Here's a tip: if you see a site that offers a progressive jackpot on 40 numbers it will be won relatively often. Those that set it lower than this give it away less frequently.
7. How to withdraw winnings – wagering and withdrawal rules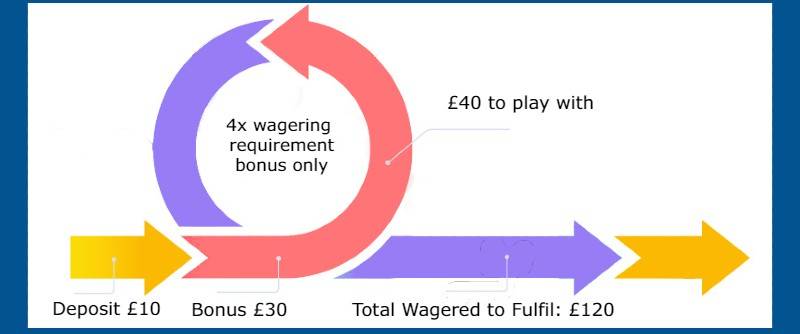 There was a time when you had to fight to get your winnings from many online bingo sites, but this is no longer the case. Reputable sites have removed the high minimum withdrawal limits that used to exist and now you can usually withdraw once you have £10 of winnings in your account.
When it comes to winnings made through bonuses, some sites do not impose wagering requirements but may have restrictions, or caps, on the amount you can win using bonus money.
The very best sites have no wagering requirements and no cap on winnings – also known as the online bingo Holy Grail!
If a site does have wagering requirements on its bingo bonuses, these will usually range from 1x the bonus to 6x the deposit and bonus added together. So if you deposit £10 and get a £10 bingo bonus, your wagering requirement could be anything from £10 to £120 using these two extremes.
Again, it is important to check the basic terms and conditions at each site as the wagering requirements will be clearly indicated. It is worth noting that wagering requirements on any slots bonuses will be significantly higher.
Tips to maximizing your online bingo game
There are no secrets to winning at online bingo. It is pure luck as you go up against the random number generator!
Always remember that you are playing for the fun of it and any wins are a lovely bonus.
Here are just a few ways to ensure you keep enjoying your online bingo play and stay safe:
Verify any site is genuine before you register,
try playing at times with fewer online players, i.e., avoid 7pm to 11pm;
set limits for yourself in money and time (don't get carried away),
buy multiple cards (but not too many),
stick to what you can afford,
play in cheaper rooms or look for the free bingo rooms.
Online bingo is not as overtly social as a visit to a high street bingo hall, but thanks to the chat rooms and the expert chat hosts employed by many sites there is still a lot of fun to be had beyond the bingo game experience.
Online bingo and the bingo slot side games are a great way to pass a few hours and the more you play the more familiar you will get with all the different types of games each site and software provider has to offer.
Playing online bingo gives players the chance to have fun and dream about winning a big progressive jackpot. It is gambling and as such nothing is guaranteed, but we all love to have that little fantasy that maybe this time we will be the one win big!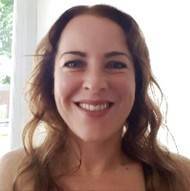 Author
Laura has been writing for over 10 years, and when she's not busy crafting articles about bingo, casino, slots, and other exciting topics, she loves to travel, do crosswords, and pub quizzes (just don't try and beat her at music trivia!) In her previous roles, Laura has managed an IT helpdesk, worked as an IT project co-ordinator, and ran a local events website. Laura lives in Wales with her partner.