Roulette Rules: How to Play & Win
Updated November 21, 2023
Discover the basic rules and strategies for UK players to learn how to play roulette and increase your chances of winning with Which Bingo's comprehensive guide.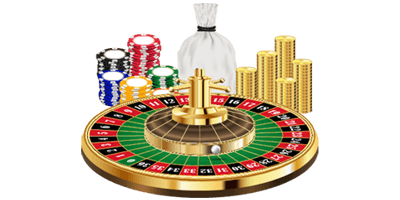 In this guide, we explore the basics of playing and winning at roulette, which is one of the easier casino games for beginners to pick up quickly. Read on to learn the nuances between different game formats, plus some rules and strategies to play roulette successfully and improve your chances of winning.
Best Roulette Casino Sites
Roulette Basics
Roulette is a casino game that involves a spinning wheel and a ball. The ball is dropped onto the wheel, and eventually, its momentum slows, and it will rest in one of the slots.
Before the ball finds its home, players at the table can bet on various outcomes with varying odds. For example, betting on a single number can pay 36 to 1 odds, while betting on red or black, or an odd or even number, pays 1 to 1.
Roulette is a game of chance that requires no skill, but many players use a roulette strategy to increase their chances of winning.
Types of Roulette Bets
Roulette offers a wide range of betting options for players, which is part of the great challenge of the game. Bets are easy to make, and seasoned gamblers and beginners can wager similarly.
Inside Bets
The grid of numbers in the centre of the roulette table is called the Inside. Inside bets are riskier, with lower chances of winning, but they have higher payouts than Outside bets. So they are great for players who want to take more risks.
The most common inside bets plus their winning probability are:
Straight-up: Betting on a single number. Probability: 2.7% European, 2.63% American.
Split: Covering two adjacent numbers by placing a chip on the line between them. Probability: 5.41% European, 5.26% American.
Street: The cover of three numbers in a horizontal line from the side of the table. Probability 8.11% European, 7.89% American.
Corner: Cover four numbers by placing a chip in the intersection between them. Probability 10.81% European, 10.53% American.
Line: Cover two adjacent horizontal lines for a total of six numbers. Probability 16.22% European, 15.79% American.
Outside Bets
Outside bets are placed outside the numbered grid, covering larger groups of numbers, such as red or black, odd or even, high or low, dozens, and columns.
Outside bets have a better chance of winning but come at lower payouts than Inside ones. So they suit players who like to play it safer with a steady bankroll.
The most common outside bets plus winning probability are:
Red or Black: Covers 18 numbers of either colour. Probability 48.65% European, 47.37% American.
Odd or Even: Covers 18 numbers of either odd or even value. 48.65% European, 47.37% American.
Low or High: Covers 18 numbers of either low (1-18) or high (19-36) range. 48.65% European, 47.37% American.
Dozen: Covers 12 numbers of either the first (1-12), second (13-24), or third (25-36) dozen. Probability 32.43% European, 31.58% American.
Column: Covers 12 numbers from one of the three columns from the end of the roulette table. Probability 32.43% European, 31.58% American.
Roulette Table Explained
The roulette table's layout can have three main sections – the Inside, the Outside, and sometimes a Racetrack section. The Inside section contains individual numbers arranged in three columns and 12 rows.
The Outside section contains options for roulette group bets. Some variations of the roulette table have a racetrack section, which allows players to bet on neighbouring numbers on the wheel.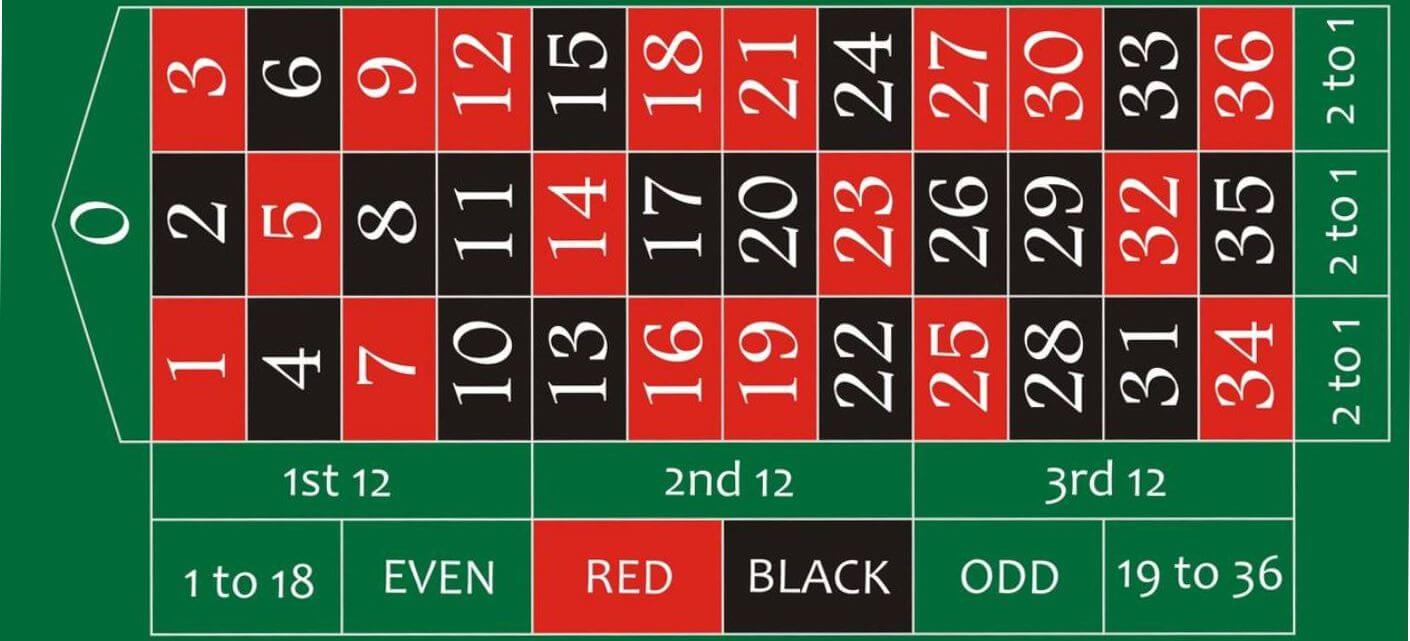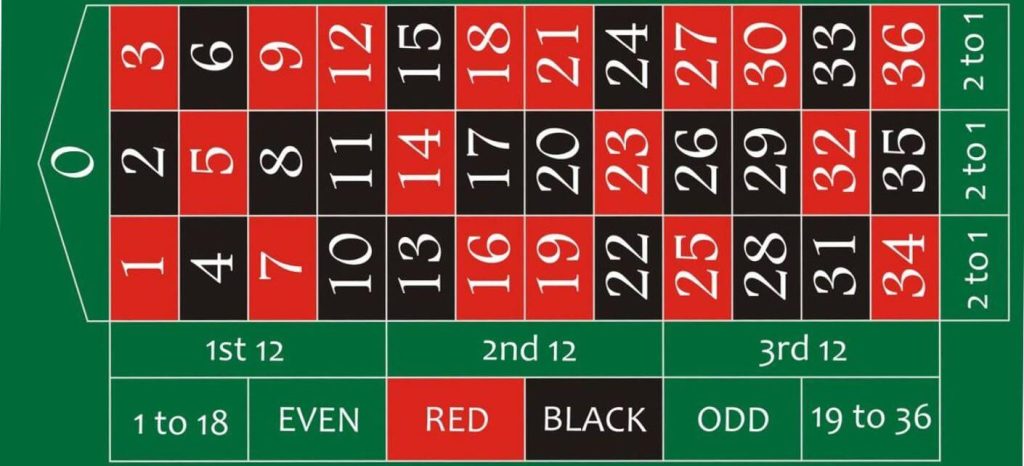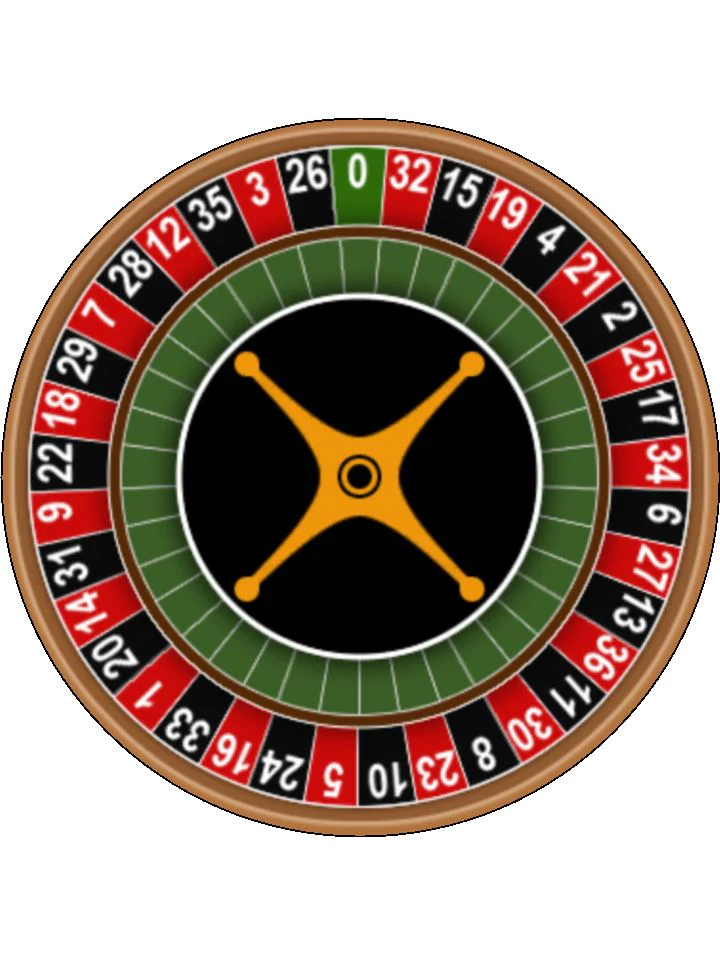 Roulette Wheel Explained
The European format is the most common roulette wheel with 37 pockets numbered from 0 to 36. The 0 pocket is green. The House Edge is 2.7% on European wheels, which is better than the American equivalent – a reason why it is more popular.
The American roulette wheel has 38 pockets, with that extra 00 pocket that is also green. It increases the house edge up to 5.26%.
It is possible to go even further and find a "triple zero" wheel with three green pockets (0, 00, and 000), but it is one to avoid because it comes with a house edge of 7.69%. Further, less common variations of roulette wheels are mini wheels (0 to 12) and a double ball roulette wheel.
Recognise the "House Edge" & How it Affects Your Odds
The House Edge is how a casino makes money from the game of chance. It is created by the casino not paying out the true odds of a bet.
If you bet on one number on a single spin, that has a 1 in 37 chance of being correct.
However, to get an edge, the casino will pay out just 1 in 35 odds, meaning that from every 37 spins, you would lose two units of stake into their pocket.
If you divide the "missing" odds by spins, 2/37 equals 5.4%, the standard House Edge on an American table. The green 0 or 00 slots on the table favour the house, and including one extra slot means that the house gets a 2.7% greater chance of winning compared to the players than if it wasn't there.
Variations of the Game
Roulette is relatively standard wherever you play, but French roulette is another main variation to look for besides European and American game formats.
This is played on a European table, and in the French version, new rules lower the house edge to 1.35% on even-money bets.
In the other roulette formats, if you have a bet on the table and the ball lands in the green 0, your bet is lost. But in French roulette, a rule called 'la partage' returns half of your even-money bets back from the table, or you can keep those 1:1 bets locked 'en prison' for the next spin.

How to Play Roulette
Here is a quick guide on playing roulette in person or online.
Step1
Choose a casino and a roulette variant. Online casinos offer different roulette games, such as European, American, and French roulette, plus random number-generated games and live dealers.
Step 2
Before the wheel is spun, place your bets on the table layout, which consists of two sections: the Inside and the outside. Then, you can bet on one or more numbers or groups by placing your chips on the corresponding area on the table.
Step 3
After all bets are placed, the dealer will spin the wheel and drop the ball, which falls into one of the pockets on the wheel. This is the winning number and colour. If your bet covers the winning number or group, you will receive a payout according to the game's pay table.
Step 4
Collect your winnings and start a new round. The dealer will clear the table of all losing bets and pay out all winning ones. You can either collect your winnings or leave them on the table for the next round.
Roulette Etiquette
While roulette can be simple and fun, there are some rules and etiquette that players should take a look at to avoid any problems or misunderstandings.
Before joining a table, know the minimum and maximum bets allowed. Do not place bets that are lower or higher than the limits.
When the dealer has announced "no more bets", don't touch or move your chips after that point, as it may cause confusion or suspicion.
Respect the other players and their bets. Do not crowd the table, block their view, don't touch their chips or interfere with their decisions and don't mock losses.
Respect the dealer. Don't argue or be combative with the person running the show.
Tip the dealer, which is a common courtesy and a way of showing appreciation for their service.
Variations of Roulette
American Roulette: 38 pockets on the wheel, including a single zero and a double zero. The order of the numbers is different from other versions.
European Roulette: 37 pockets on the wheel, with only a single zero. The order of the numbers is the same as in French Roulette.
French Roulette: This version uses the European wheel format but has additional betting options, such as En Prison rules.
Double Ball Roulette: This version uses two balls instead of one, which creates more betting options and outcomes. It can use either the American or European wheel format.
Mini Roulette: 13 pockets on the wheel, with numbers from 1 to 12 and a zero. House edge is around 7%.
Rapid Roulette: A touchscreen version for roulette betting instead of chips. It uses an actual wheel and ball, but the payouts are automatic.
Ready to Play Roulette Online?
Online roulette is an easily-accessible way to enjoy roulette gambling. Online casinos run 24/7, so anytime you fancy a game, you have to pull out your computer, tablet or phone, and you can enjoy a massive range of tables.
If you are ready to play roulette online, you'll need to open and fund an account with one of the casinos, and you are set. You can play your favourite roulette strategy, practice on free games and get a great user experience.
Frequently Asked Questions (FAQ) 
How do you play and win at roulette?
Luck will determine when you win at the end of the day. But playing the Outside bets is likely to see you win more often.
How do you bet on roulette for beginners? 
Take things slow and gain experience on free tables. First bets on roulette should be more conservative ones at a reputable casino.
Is roulette skill or luck? 
It is a game of chance. So players need luck, but having a good roulette betting strategy can significantly help.
How many numbers should you bet on roulette? 
For beginners, keep things simple and target smaller odds like Dozens, Columns, Even/Odds or Black/Red as they cover the most numbers. 
What is the safest bet in roulette?
The ones with the lowest ratio of 1:1 provide the most chance of winning. Selecting Red, for example, covers half of the table. 
What is the most successful roulette strategy? 
Among the most famous roulette strategies are the Martingale, D'Alembert and Fibonacci. Test different strategies to see what works with your style of play.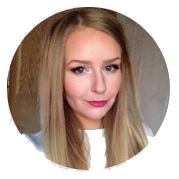 Author
Jennifer is a writer with over five years of experience in the online casino industry. She has a First Class Honours in Media and Journalism and specialises in writing online casino reviews, slot reviews and gambling news content. Digital marketing, SEO and public relations are also other areas of interest for Jennifer and she has worked across these industries before setting up her own content company.