Podcast #6
Updated November 29, 2023
The Man Behind MrQ – Savvas Fellas Exclusive Interview
In this week's WhichBingo podcast, the team chat to Savvas Fellas, the Managing Director of MrQ.com.
It was a fascinating discussion that gives an interesting insight into the inner workings of an online bingo company and reveals just how difficult it is to build your own custom bingo software from scratch.
Discover:
Why he decided to launch their own bingo software.
How long it took from get launched, plus mistakes and challenges encountered along the way.
Whether he ever thought about pulling the plug on the project.
Which other bingo providers Savvas admires, and whether he thinks we'll ever see another new bingo platform again.
How regulatory changes and restrictions have affected development.
Advantages and disadvantages of having a no wagering sign-up offer.
Why seeding jackpots can backfire if you're not careful.
Will any of his white labels ever move to the MrQ software?
The honest reason why he called the brand 'MrQ'.
You can listen to the podcast (above), watch on YouTube (below) or read the full transcript at the bottom of this page. If you enjoy the podcast please follow us on Twitter, Facebook and subscribe to the podcast which is available on all good podcasting services.
---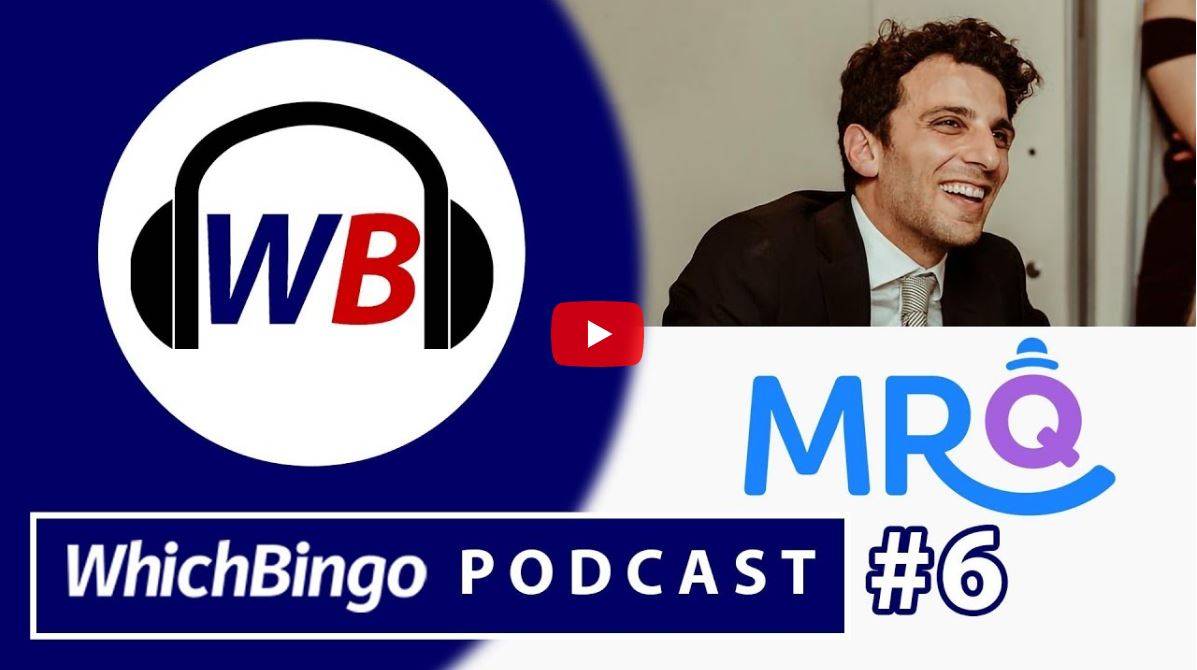 ---
TRANSCRIPT
Roger: Greetings ladies and gentlemen and welcome to the WhichBingo Podcast episode 6. We're getting into a series of them now. Of course, I'm Roger Knowles, but I'm not on my own as I am joined by Anita Heffernan and Wayne Howe and we also have a special guest on the show, the Managing Director of MrQ.com, Savvas Fellas. How are we doing?
Savvas: I'm good. How are you?
Roger: Not too bad. Are you ready for a grilling of questions today?
Savvas: Umm, I think so, I hope so.
Anita: We're very friendly!
Roger: We are. Very chilled, very much relaxed. Basically, what I am going to do is pass the microphone over to Wayne and he's going to begin questioning you. I hope you are prepared. Wayne, take it away.
Wayne: Yeah so, I've got some questions lined up. Basically, I just want to know the story of MrQ. So, where do we start? Start by telling us and the listeners a little bit about yourself, your background, up to the point where you decided that you were going to launch your own bingo product.
Savvas: Alright, I guess my background is in digital marketing, fairly traditional background. I worked in media agencies including MediaCom and learnt my craft there and then I stumbled into affiliate marketing from that, just to kind of flex a few muscles and figure it all out from an SEO perspective and I stumbled into the gambling space and then into the affiliate space. Affiliates generally make the transition to white labels because you are a publisher and you take on advertisers, but if you are an affiliate and a white label, you are a publisher and an advertiser, so it felt fairly kind of natural.
So we did that and then we decided you know what, let's not just be the publisher and the advertiser, lets be the publisher and the advertiser but let's own the IP of the advertiser because when you have that you can kind of tweak things as you see fit and you don't rely on someone else. So that's kind of the journey in a small nutshell.
Wayne: So, well I think you just answered my next question, which was what it was that made you decide to sort of do that, launching your own software, I mean it's a big undertaking.
Savvas: It's huge, it's very very very big. I mean when we, when we decided to do it I kind of spoke to a few people and they were like, "Listen, you really need to know what you're getting into!" and I kind of ignored it. So being naïve is good, but knowing that there's stuff that's gonna come up that you need to learn as you go along.
But yeah we did it and we did it because as a white-label operator you work with all these different partners and for the most part a lot of them are built on old systems, old technologies and even the guys who are a little bit more modern they're still patching it in places. Now they outsource it – it was done when flash was kind of trending and so we said let's build it and let's not outsource it. Let's use modern technology and then hopefully that gives us the advantage of speed because we're small, we're lean, more agile and for the most part that's kind of worked exactly as it should have.
Anita: Yeah we were so excited when we found out that a new platform was actually going to be launched, because I mean you'll know yourself, like back in 2013-2014, you know that the bingo industry was like escalating at a rate of knots and you know when a new site was launched you could think ah you know what's it going to look like, how is it going to play, and then all of a sudden it was the same thing time after time after time, and so when a new one was coming it was Oh wow! this is going to be great, but then you obviously hint there were issues, it was more complicated than you thought, like you said a little bit of naivety there, but how long did it take you altogether from start to finish?
Savvas: I mean, we went about it the wrong way as well, so we designed and then we thought we will design it what we want it to look like and then we'll start developing the design and creating it into real form. That, that was wrong, but in total probably about four years and that includes a year of being operational since last August.
But there's so many potholes along the way especially because the biggest challenge is if you decide not to outsource it, if you decide to build it with a certain level of integrity from a software development point of view, it's going to take longer but it should pay dividends in the long run, longer run than now, but you're also bootstrapping it so you're funding everything yourself you don't, you know, you have these other areas of the business like the affiliate side of our business, the white-label side of our business, which funds this project and because you're doing that, there are certain decisions you can't make. You can't hire twenty developers who are like premium lead developers and no Java like the back of their hand. You have to hire a couple who are resourceful and that you have a really good relationship with. So three years, but it could have been done differently obviously.
Anita: Wow
Wayne: What were the biggest challenges you faced along the way and was there ever a point which you thought maybe we can't do this or maybe we should cut our losses?
Savvas: (Laughs) I always say if I knew then what I know now, I don't think I would have done it. It's too big, it's too big! You have like, at first when you think about it you think it's just a random number generator, it's a ticket generator and then you're pulling in third party slots, that's not that hard! And initially we wanted to build a slot engine as well so I have an RG that we, you know, create games and animations and themes for and also build an affiliate platform, so the entire ecosystem, but then when we thought about it, we were like well, you learn the hard way and then you realize actually certain things I just need to give up to a third party. Income access can do the affiliate side, a third party can do the slot side because to build an RGS the mass around that is pretty intense and you already have the problem of bootstrapping this whole thing.
So those lessons came in pretty quick and then you have to kind of undo your strategy and then as you get down the road a software developer comes to you and says, "well have you thought about this?" About how the tickets are generated or how the balls are generated and the time between ball calls and the wallet and how the wallet talks to the tickets and how the wallet talks to the third party suppliers and have you got the contract for the third party supplies and have you got your gambling license and have you got your acquiring bank, and then the list just goes on and on and on and on.
Anita: We should stop talking now because we are never ever going see a new bingo platform ever again if people listen to this!
Roger: Yes – Have you seen that interview? Don't do it, don't do it.
Savvas: It's a good journey, it's a really good journey but it's, you know, you need to be prepared and I don't think we were as prepared, but it's a fun journey and it's better when your live because you get to tweak the thing that you built, so it's rewarding, but it's hard graft.
Anita: Have you got any more slots pencilled in to come online soon? You know, any breaking news there for us?
Savvas: Well, again, this is a new learning that we've kind of undertaken as part of the journey. We thought that you know you could go direct with all these slot providers, but that takes a lot of dev work so we've decided to go down an aggregator route where you go in with one provider who gives you access to the market, like a distribution channel. So we go in live with them hopefully before next week, so that will give us a lot of content from NetEnt, QuickSpin, PariPlay, IWG so we're going to go from two providers that we currently have which is Thunderkick and Eyecon, to like the majority of the market. Hopefully that will help with retention as well.
Anita: Yeah, good!
Wayne: We'd almost touched on it just then. I was going to ask do you think we'll ever see anyone else attempt to build their own software?
Savvas: I don't think they'll do bootstraps. I think if they do it they'll do, well actually, no I don't, I don't think we will! It's too hard!
Anita: (Laughs) That's disappointing!
Wayne: We touched on this in another podcast, but do you remember Wonder Bingo when they launched?
Savvas: No! It vaguely, vaguely rings a bell.
Wayne: I think they came from a Facebook background, they had a Facebook app of bingo and then they brought it and they built, like yourself, they built it themselves from scratch and it looked amazing, had all these bells and whistles they like had themes where for Halloween there was all bats flying across the screen and stuff. And then it was what felt like a matter of months before they just ran out of money and then they were gone, never to be seen again.
Savvas: You can get carried away, you can get carried away! That feature creeping is a real problem with that sort of thing but you've got Yggdrasil, I think they had, they had a bingo product, but I think that was, I think it's shelved, and that was a B2B product so you're not quite B2C and then you've also got Pragmatic who have a B2B bingo product and they plug that in via Nektan, but they're B2B's and they kind of, because they haven't had that experience on the ground as a B2C, the product's kind of lacking… something. Just there's something missing. When we look at it, we just feel like it's a bit stale.
Anita: Yeah they do need a bit of personality because I mean there's not much you can do with the bingo game itself, but you've got to try and inject something. I mean Playtech do it very well you know they've got all these different kinds of games -it's still a 90 ball game or an 80 ball game or whatever, but each one seems to have a personality.
Savvas: You know the maths of a bingo game don't get talked about and are massively underestimated. It is a very very complex beast and the creativity that you can inject to the maths of it, whether it's 90 or 75 ball is incredible. Even something as trivial as – this game is a paid-for game, this game is a free game, this game is etc., etc., and having that mechanic. So that is quite deep and the people who do it best are probably Playtech because the mechanics that they have and how creative they've got with their bingo and the random number generator side of things is it's quite creative. But we don't see enough of that at the moment because it's so kind of artificially crowded is what I call it.
Wayne: Have the regulatory changes of the last year or two affected your plans and have you overcome these obstacles that keep coming from the Gambling Commission?
Savvas: I think it's pretty intense and it kind of has to factor in when you build something like this. Bearing in mind we decided to build this before, you know, the landscape started getting as bumpy and as rocky as it is now. It just makes it that much harder. Without a point of consumption tax at 21% I think it would have been a much easier ride for us. At 15% it is manageable, at zero you start to see, as an operator coming from a white label side of things, you start to see how these guys have got as big as they've gotten, because that 15% it's a huge number.
To go from 15 to 21 it's even bigger and that from a monetary point of view is big but then you have the RG side of things, the source of funds, the AML checks and these bigger guys, we feel like they're tripping over themselves a little bit just to kind of undo all of this legacy stuff that sits in the background, whereas for us it's quite easy to manoeuvre around it. So if credit cards were turned off tomorrow and the GC based on their consultation said, " Listen, no more credit cards," we're already prepared, we're already prepared for it we can just turn it off in the click of a button and we have that advantage and that's why we feel our platform is, kind of, it's fairly modern and we have that as our USP as it were.
Roger: Sounds more adaptable.
Savvas: It's very agile. It's very agile. Because we haven't outsourced anything, because we're not tripping over any old code that we bought or inherited or wasn't built in 2008, we can manoeuvre around it a lot easier.
Anita: Is the 'no wagering' working for you?
Savvas: It's good and I think everyone will get there eventually, but there's abuse in having no wagering. People come in, they use a code, they deposit, they get their free spins, they take the deposit out, so it introduces different problems that you have to be prepared for. A lot of bonus abuse but nothing's really changed there, it's just the way that the abuse happens has changed.
Anita: Oh wow, you wouldn't have thought it would be worth it with the small amounts that are being bandied about today.
Savvas: Yeah, unfortunately, if someone deposits 10 quid and gets 10 free spins and wins 5 quid they're pretty happy about that because they get the five, they get the 10 out and there's no commitment to come back or do anything, but it's just part of part and parcel of running a no wagering site.
Wayne: So I need to play Mr Q. I've been online and played some of the slot games I must admit I didn't delve into the bingo, can you tell us for those who haven't played Mr Q what you've actually got on the site at the moment and then what's next what can we look forward to aside from all these exciting slot manufacturers you said they're going to get plugged in soon.
Savvas: So there's I believe currently, there are five different bingo rooms. We've got a couple of different mechanics. You've got your 75 ball, you've got your 90 ball and then we have another mechanic which is a rollover mechanic, which I really like this one, where you buy a ticket and it's 75 ball bingo, it's a coverall pattern and you have to get it in a certain number of calls. Now if you don't then the pot rolls over and rolls over and rolls over until someone wins it. So it's kind of like a rollover bingo mechanic. So that there that's what we currently have. We're working on a number of different mechanics.
I'm not going to give away too much at the moment because I don't want to disappoint if it doesn't go live, but lots of different mechanics that will enhance the bingo experience and we're also going to turn our chat back on because it's been off for a while, just while we figure out, you know, some things out in terms of marketing because liquidity is a problem with bingo at this level. You need to get a good volume of people into the rooms before you can get to the social aspect of it.
Anita: That just leads me to my next question. I mean a lot, I think most of your rooms at the moment, the prizes are based on stakes. Have you considered seeding any of the rooms, to tempt people in, to get them used to the game and then, hopefully, that will keep them coming back, but while it's only, you know, not too big prize money, people don't tend to be that interested and it could be retention could be a problem in that way?
Savvas: Totally. You hit the nail on the head. It's a little bit of chicken and egg though, because early on when we launched it, we knew that liquidity and getting players there and keeping them there was an issue. So we came up with a kind of welcome bonus, but it just got so heavily abused. It was good to see because you had all these kind of people come in and they're referring people, but they were just there for one thing and it was like a seeded room every 10 minutes with five-pound seeded, so everyone was kind of getting a decent share of it and it got out of control and we had to kind of pull back from that. So and now we've gone a little bit in the opposite direction and so we need to go and find that middle ground between how much to seed, how many players are there and, you know, fine-tune that a bit.
Anita: Right yeah.
Savvas: It's definitely the biggest challenge in running a successful bingo site in that you've got to manage the liquidity properly.
Anita: Have you thought about putting any of your other white labels onto the software? Have you got a name for the software? Is it MrQ software?
Savvas: I don't have a name for it so it's really weird because this keeps coming up. I've got a few ideas but I'm not too, I'm not too bothered about that just yet. If you've got any suggestions I'm all ears, but you've got to be able to find the domain of that name. That's the biggest challenge. Migrating the stuff over? No, I think it'd be more headache than it is worth.
Anita: Fair enough, sounds like it.
Savvas: Yeah it'd be tricky.
Wayne: I wanted to quickly touch on something you mentioned about the chat rooms being closed. So is that the case at the moment, there's no chat, you can just play the bingo but there's no chat.
Savvas: Yeah.
Wayne: Because Roger and I are admins on a Facebook group for aspiring chat hosts should we say and hope some of the members might be listening to this or watching – hello – but it's fair to say they are absolutely intense trying to find it – "where's the chat host job, where's the chat host job?" and as soon as they get a sniff that there's one available they will pile that email address.
Savvas: I think they've already done that to mine. Yeah. We had a lot of them, we had a lot of them. We did trial it early on, we did some stuff early on. So we turned on the chat, we had seeded rooms and we had chat hosts and we also monitored it internally you know, profanities and stuff like that, although there's filters to manage that side of thing. It was really nice to see, but you always knew that there was this agenda that they just want the seed, they just want to win the seed and then once the seed is turned off they're gone.
The other issue around chats is that most people are on mobile and figuring out what that UI UX looks like on mobile with chat, bingo, slots, the kind of the three big things that you need to have, is a big, big challenge. Someone who does it well is Gamesys. Gamesys UI UX is like, you know, it's the best out there in my opinion and so we haven't quite wrapped our heads around how we do that yet because we sacrificed on mobile, we sacrificed the slot view, so whilst on desktop you've got the three, on mobile you've got the two – you've got the chat and the bingo, but it doesn't seem that people chat much on mobile. I don't have too much insight into this, but it doesn't seem like you can do both at the same time to a good level of kind of competence where they're both nicely managed, so you've got to wrap your head around that side first.
Anita: Yeah the mobile is a whole different ballgame when it comes to chats and, you know, these days I'm surprised so many people still think that, you know, chat hosts, that so many are required, you know, and still see it as the Holy Grail really of home working you know.
Savvas: I think that chat hosts are great but I think it just represents something that's bigger which is the social element of it and that's again where Gamesys just dominate. You know Playtech have great mechanics and you know it's creative in that sense, but Gamesys have created a community and have just led the social side so it goes beyond and it's much bigger than just chat hosts. It's like a social place where I want to go and socialize as well as have this entertainment element of it.
Anita: Yeah I agree.
Wayne: All right well you've eaten me out of questions. Did you have any filler left that you wanted to grill Savvas about while we've still got him?
Anita: No I mean, I've asked, I was interested about possibly moving the white labels you know for a little bit more liquidity you know if you've got a little network you know I thought that might have been and you've got some players there that might have come over with you. That was quite interesting to me, but obviously, it's not feasible at the moment, you know, maybe a little bit, a long way down the line maybe.
Savvas: The alternative to asking why aren't you just licensing it out, why aren't you just giving it to you know all these potential B2B partners or even doing more B2C brands, but it's really difficult to talk about this industry without talking about how much noise there is from how many white labels there are and when you strip it all back you've got like a handful of software providers, which I kind of endorse and I don't fully agree with and I'm also part of the problem, but then to start feeding into that problem more and more and more, I just, I would like to just create a brand that feels unique first and see how that goes before saying, do you know what, we're open for B2B business now.
Anita: Makes sense.
Wayne: I actually just have THE question pop into my head. I did write it down – what's with the name MrQ? It's very unusual, you know, it hasn't got the word bingo in the name for starters. Where did that come from? What was the concept behind MrQ?
Savvas: Oh God, I should really have like a better answer than the one I'm going to give you.
Anita: Oh no!
Wayne: Go on then!
Savvas: Three letter domains are just cool! Memorable. And that's it!
Roger: Very true. Three letter domains are very rare as well to try and get hold of them so you've done very well there.
Savvas: Yeah. I don't know anyone, like, who's 'my MrQ'. It's not my mum or my dad or anything. A three-letter domain was really nice.
Roger: That's very smart actually, nice. (Laughs)
Anita: Wow! (Laughs)
Wayne: There you go!
Savvas: Buy any three-letter domain that's available and then just go through the list and try figure out which one works.
Roger: No, good move, very good move.
Wayne: MrA.com., MrB.com (Laughs)
Anita: MrT.com (Laughs)
Savvas: MrT would be really nice.
Wayne: Yes, that would. "Pity the fool who tries to buy that domain" (Laughs)
Roger: And on that bombshell, ladies and gentlemen, thank you so much for watching and listening to us. Savvas, thank you so much for joining us. It's been really interesting actually for you to take us through all that. It makes it sound extremely daunting, but I tip my hat to you sir, you've done a very good job and I'm looking forward to seeing what's coming up in the near future.
Savvas: Thank you very much.
Roger: Wayne, Anita, thank you so much for joining me, everybody who's watching and listening because we are now available on all podcast services. We're available on iTunes now which we finally got through to iTunes and they were like, yeah okay we'll confirm it, but thank you so much. Check it out over on YouTube and on our Facebook page and don't forget to head over to WhichBingo.co.uk to check out all the latest promos and deals and everything like that and we will speak to you and, hopefully, you'll see us next week. Thank you very much.