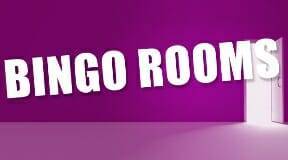 What are bingo rooms?
When it comes to choosing an online bingo site there are many different factors to consider and one of those is the choice of bingo rooms that a brand has. As bingo players, we are all individuals and as such, each have different expectations and requirements from the site we choose to frequent.
When it comes to the term 'bingo rooms', there are many different connotations and here we look at the different types across a multitude of different networks and software platforms.
The general definition of 'bingo rooms' would be the venue where you actually participate in the game.
From the Newbie room offered by some sites as an introduction to their site, to the free bingo rooms that are available from some operators as a taster to the brand and the gaming experience that they have to offer. You will also find that there are themed bingo rooms, special rooms only available to VIPs and at some sites, private rooms.
Different bingo rooms are offered to cater for the multitude of individual players that a site will have.
The types of bingo rooms available
Newbie rooms
A great place to start is the newbie bingo rooms and access to these rooms varies from site to site that offer them.
Newbie rooms are usually rooms that are only open for a limited time to the player who has recently registered and / or deposited at a specific site.
The newbie room at Mecca bingo offers players access to a free play room for seven days from the point of registration and no deposit is required.
There are two sessions daily, one from midday until 1pm and then another in the evening from 6pm until 8pm.
Each game of the games offer a £20 bingo bonus and are community jackpots which means even if you don't win, you could take a share of the prize money offered.
There are two different newbie rooms at Mecca Bingo and your access is determined by the day that you register with the site.
Film Bingo
The newbie room at Film bingo offers a free game of bingo every few minutes from 8pm until 11pm daily. Access to the room is given when you make you first deposit with the site and is available for seven days from the point of your first transaction.
The room boasts 90 ball games only and each has a jackpot of £3 per game (one line for 60p, two lines for 90p and the full house for £1.50).
The room only shows in the main lobby of the site for the days that you are eligible to use it.
Wink Bingo
Wink bingo welcome their first-time registrants to the site with access to the newbies room for three days after you sign up with the site.
In those three days, there is a total of £900 in bingo bonuses to be won and it can be accessed from both your mobile and desktop.
Jackpots in the room vary and could be £5 in bingo bonuses or a selection of loyalty points are given away (either 1,000 or 2,000 prizes). These can be exchanged for bonus funds at an exchange rate of 1,000 for £1 in bonus.
Sky Bingo
Update: As of 2017 Sky Bingo no longer offer a Newbie Room
The Sky bingo room was open to new players who had registered with the site and created a chat username. The room was available from 5pm until 9pm daily and was available for the first 7 days.
The games in the room were a mixture of free games and pay to play games with the no cost games available on every other game. They were Roll On or BOGOF games.
Each of the games had a total prize pool of £10 and this was paid into your bonus account if you were lucky enough to be a winner. However at present this is not a feature that Sky Bingo offer anymore.
Sun Bingo
Sun bingo have named their newbie room the learner room and it is available to players for seven days from the point of registering with the site.
There are two sessions every day and these run from 11am until 1.59pm and then again in the evening from 6pm until 7.59pm.
The room is hosted and gives players the chance to see just some of what the site has to offer without spending a penny.
Free rooms
The first site to ever offer free rooms that were open 24 hours a day, seven days a week was Cheeky bingo. It wasn't long after this that it became more than just a novelty, but an expectation.