If you're a social media fan and someone who loves bingo, then the chances are you will have played any number of the free (freemium) bingo apps available on Facebook. My question is, do these compare favourably to playing for real cash or is it a totally different experience for you?
From personal experience, my dalliance with the free apps available in the Google Play Store, App Store or Facebook all came about when I had exhausted my set bingo budget one month. Little did I know that these games, the challenges they set and my competitive streak would see me actually spending money on games that I was never going to recoup any from!
This is where the main difference is between online bingo and the free bingo apps that are available from various sources. With online bingo, when you drop cash into your account, you have a chance of winning some cash back. With free bingo apps, you pay money to buy coins or various other items, and it is cash you will never seen again – but hey, you might level up!
Another difference is that these apps have yet to be under the scrutiny of agencies like the Gambling Commission and are not licensed or governed by the strict rules that online gaming sites are.
1. Bingo Blitz – AKA Facebook Bingo
The best known of the Facebook bingo games is probably Bingo Blitz. This is a 'high action' version of 75 ball bingo and can be played for free. However, it is monetised by players wanting to continue after free coins have all been used and by wanting to move up the levels and gain status. It is enjoyed by players the world over and they play against each other to win rewards and bonuses.
Game Play
Bingo Blitz is a fast paced game that has evolved and definitely kept up with the times and its competitors. As this is from a US based company it is 75 ball bingo, but played in the familiar environs of Facebook. There are all the bonuses and Power-Ups you could ever want with new features being added frequently.
Start off with 5,000 free coins to start your Bingo Blitz journey and then look out for daily free coins and credits to keep the fun moving. Earn XP points as you play too and the more you collect the more bingo and slots content will be unlocked for you to play.
The games are based around different cities around the world and are designed accordingly. As you play and Level-Up new rooms are unlocked. Some rooms cost more than others to play, but the prizes are also bigger. If you run out of the free credits there is the option to buy more, with discounts often offered for different package levels as these also come with added Status Points.
You get a daily spin and daily rewards for logging in. There's a Gift Centre where you will receive gifts from Bingo Blitz and your friends and you can send and request gifts too.
You need to have your wits about you with this game as it is manual daub and there is a lot going on, but there are mutliple chances to win in every game.
You can play in the Daily Tournament room and check out the Slots room for more rewards.
Bingo Rush was released in 2012 and was created by Buffalo Studios, the name behind Bingo Blitz.
There are currently over 157,000 likes on the Facebook page for the original game, but Bingo Rush 2 has over double that.
The game itself is available on iOS and Android. It is free to download but there are in app purchases available.
Game Play
This was one of the first that I ever really got into, and the one that I actually spent money on buying credits etc. It's a personal favourite and a game that I play on my iPoo (that's not a typo!) to relieve the boredom of a rather tedious task that we all usually perform at least once a day.
Like many of the apps available this one is 75 ball and the aim of the game, other than to win bingo is to collect certain shadows that appear on the patterns by getting a bingo on that specific pattern.
You have the option to play between 1 and 6 cards per game, but with manually marking your tickets and only two cards showing on the screen, I fine two to be the best option.
You earn power ups the more numbers that you mark off your card and you can claim bingo for any lines that you mark on your ticket.
Bingo Bash has been around a little longer than Bingo Rush and has over a million monthly users. It was created by GSN and can be played on your iOS, Android or Windows device.
It too is free to download.
Game Play
It's a game that I had played when I first got into the free bingo games, but not a personal favourite of mine. That said, it has many of the same features of the likes of Bingo Blitz and Bingo Rush, it's just the design is a little different.
When a game is in play, only a certain number of bingo house calls are allowed before the game finishes. As you mark numbers of your card, the Power Plays bottle fills and when it is full, you are presented with a bonus.
This could be a bingo, free cells on your card or a double up bonus. Details of all the bonuses can be found in the Help section but the more you play, the more conversant with the game you will become.
Bingo is won in a different way on this game, whilst you have to mark of the numbers your aim is to clear a path for the genie back to the lamp, at least in the three wishes room.
There are multiple rooms and each work a little differently.
Monopoly Bingo was created by Storm8 Studios and at the time of preparing this article, had a four star rating based on 71 reviews in the app store and had over 100,000 users per month on Facebook.
Like all apps it is free to download but does offer you in app purchases.
Game Play
This is a branded bingo game from Hasbro and Storm8 Studios. Whilst it has all the Monopoly branding though, the actual game play is not too dissimilar to the other games.
The Power Ups work in a similar way and offer things like the Mystery Chest Boost, Free Parking Space and others. Use them as you mark off more and more numbers as the game plays.
When you win bingo you earn XP, Keys, Money and Dice and if you collect chests, then you can reveal items to complete collections. As you complete collections, you have the Title Deed and will receive extra power ups, money, gems and dice.
The pops up on this game can be quite annoying in comparison with some of the others I have played.
Join the adventure in this popular online bingo world. Bingo Adventure is an excellent free to play social bingo game from Elestrom Casino with 'awesome game features and thrilling challenges'.
Start your Bingo Adventure with the free welcome bonus and watch for the free daily gift and boosts. Every new players gets 500 free tickets and 30 power-ups and 10 Golden Tickets to get the balls rolling. The game also ensures that players are not left hanging as there are loads of bonuses to be had every day too. Watch out for all the chances to claim free tickets, power-ups and even more bonus.
Game Play
Once you get to know the game and if you want to enhance the experience further or play longer you can make digital purchases of in-app products costing from £1.89 – £97.99 per item. However, it's always good to know that every day you log in you will recieve another 150+ Tickets, 10+ Golden Tickets and 2+ Power-ups, so with a bit of luck and a few wins you won't need to make any purchases to keep playing.
There are more than 30 different bingo game themes, with more being added all the time.
With time and experience will come expertise which will also allow you to play with up to eight cards at once, so increasing your chances of a nice win. You won't get bored though as you will work through games of varying difficulty so you will feel challenged while having lots of fun. The more tickets you play and the more you win, the faster you will level-up. The more you level-up the bigger your daily bonus will be. There are also random puzzles thrown into the mix in each room for you to solve to earn even more bonus.
There are thousands of players across the globe and they love the great animations and effects within the Bingo Adventure gameplay. This free game allows you to play tournaments which means you can play directly against friends and hundreds of others from around the world.
Look out for the classic free social bingo game that is Bingo Pop. Play for cherries, not money or points, and bingo your way to power-ups and big jackpots. With this site you can enjoy the games anytime anywhere, as it doesn't matter if there is no wi-fi or you have no data, as Bingo Pop has an exclusive offline mode.
On a site that boasts excellent quality graphics, there are over 15 bingo rooms to play in and more than 100 levels to power through, with more bonus content being released along the way. In exotic rooms with names like Monte Carlo and Havana Cabana you go on a journey of bingo exploration and look for the big rewards and big jackpots as you work your way up to the higher stake games.
All this with no deposit required as these games are totally free to play.
Game Play
Play the special collection events and unlock exclusive daubers and claim free coins. Earn free Power-Ups as you play your way through hundreds of levels and climb the leaderboards in this popular multi-player bingo game.
Increase your chances of winning by daubing four cards at the same time. If that sounds difficult, don't worry as you don't lose points or time for mistakes and you can double check your numbers by daubing all remaining before time runs out. The app will also call bingos for you in case you miss it.
New features and content are being added all the time, so every visit could reveal something new to explore. It is important to note that although this game can be accessed via Facebook as well as from a downloadable app the game is intended for an older audience and does not offer real money gambling or an opportunity to win real money or prizes. Instead you get to enjoy exciting games of bingo in a social environment along with thousands of other bingo fans from around the world.
DoubleU Bingo is the social bingo game that describes itself as a bingo wonderland of classic bingo games and some new bingo rules for you to master.
You can pick a pet and go on your DoubleU travels around this special bingo world together, playing against others from around the world and gathering up collectables.
Game Play
Pet lovers everywhere will love this game as you become friends with cats and dogs which you can dress up in all sorts of costumes to help you win the bingo games. You even have a 'pet room' which you can customise with virtual furniture and decorations.
Log in every day for your credits to play and collect more with each win. The easiest way to get free credits is through Daily Rewards such as the Daily Stamp and Daily Spin, but you can also convert Gift Points to Credits at the Gift Shop. Another tip is to ensure you visit the DoubleU Bingo fan page on Facebook.
Collect Poweraisers to increase your chances of winning. Look out for the Daily Tournaments for the chance to climb the leaderboard and increase your stash of prizes.
DoubleU Bingo is always coming up with new ways to add enjoyment and variety to your social bingo gaming.
Although not one of the original free to play social bingo games, Wizard of Bingo has been around for a while and has learned well from the free games apps that came before it. Developed by Dynamic Games Ltd the games seems to have avoided many of the pitfalls of its competitors, including making it easier to level up and complete collections.
Described as a world full of magic, when you download this game you will enter a mythical world of bingo filled with wizards, fairies and enchanted forests.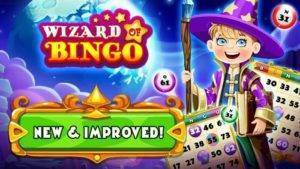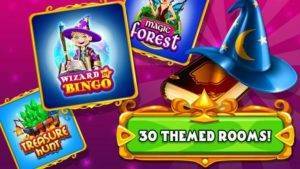 Game Play
There is nothing boring about the design of this site and its games. There are more than 30 rooms to move through and you can play online and offline. There is classic bingo and video bingo and you will be playing with people from all around the globe. The Wizard of Bingo community is growing all the time, attracted by the bingo slots and tournaments that sit alongside the standard bingo games.
As ever with these social bingo games there is no deposit required to play and still enjoy the thrill of the super boosters and double-ups, the fun of collecting special charms, spells and medals – all of which can be traded for new themes for your bingo games. There are some tricky bits to master in this game as a wrong call will lose you lots of coins and points.
You can play up to four cards at once and chat with other players. Win your way down the yellow brick road, gain your anti-spell protection and aim for the VIP rooms that high betting players enjoy.
Although free to play if you want it to be the game offers in-app purchases to help you along and to play for longer. You can access the game 24/7 and new content is being added all the time to keep players interested.
Crossing Over From Free To Pay To Play
Wonder Bingo – Not a success story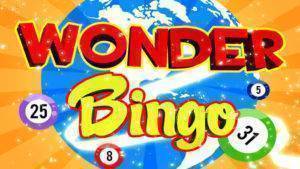 Wonder Bingo first launched on Facebook as one of the free apps in late 2010 but by 2011 they had chosen to make the transition to a pay to play brand.
Whilst Wonder Bingo enjoyed impressive popularity as a free app on Facebook and as a mobile download, this didn't translate well in the world of pay to play online bingo and by 2012 the site had closed.
Bingo Frenzy, from Jackpotjoy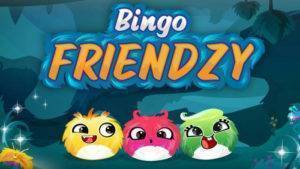 Another instance of a crossover on Facebook and an online bingo brand was Jackpot Joy's Bingo Friendzy, a game that caused much controversy and incited much debate in the world of online gaming.
The app was the first ever to launch on social media with real money gaming and it became available in August 2012.
By November two complaints had been raised with the Advertising Standards Authority (ASA) as the two complainants felt that the Facebook page for the game was likely to have appeal to younger children.
The complaints were not upheld and Bingo Friendzy continued to offer real money gaming on the popular social media site until May 2014 when players were informed that they would no longer be able to access the game on Facebook.