Playtech Gaming Software Review And What It Has To Offer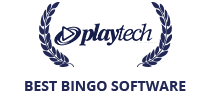 Although Playtech is well known for making premium-quality slots with unique themes and innovative features, the company also has a solid heritage in bingo games development. Some of the Playtech Bingo sites are the biggest bingo brands in the country like Sun Bingo, Paddy Power Bingo, Mecca Bingo, and Gala Bingo, to name a few.
Playtech bingo titles provide fantastic content and deliver one of the best player experiences you can find.
On this page, we examine the company's history, games, and the market responses to their product. We'll tell you where are the best Playtech sites to play bingo and help you gain a more in-depth view of the company. Our Playtech review is honest and comprehensive, informing you of everything you need to know including both the pros as well as the cons of their games. So, without further ado, let's start by checking out the hottest sites offering Playtech slots and bingo games:
Best Playtech Bingo Sites
Who is Playtech?
Playtech was founded in 1999 in Estonia and is now a listed company trading on the London Stock Exchange. The company has developed into a major player in the UK securing over a whopping 40% market share of the nation. Its growth has been enhanced by a few crucial acquisitions including the procurement of Virtue Fusion in 2010, which is now the brand's bingo platform. The company's bingo portfolio is then enhanced by further acquisitions of ECM System in 2016 and Eyecon in 2017. Playtech's bingo software is one of the most powerful in the industry, allowing their licensees to integrate as much or as little as they wish into their respective sites.
The casinos of Playtech and the software provider itself have been winning multiple awards every year which continues to confirm the developer's strong global position. In 2017, Playtech was crowned "Platform of the Year" at the EGR B2B Awards along with four other trophies, including "Bingo Supplier". In 2018, the company defended its Platform of the Year status, which is the most prestigious one of all the categories at the EGR Awards. In the competitive world of online gaming, consistently winning such distinguished awards is a testament to the quality of the company's services.
Award Winners – Best Bingo Software & Best New Bingo Game
Playtech really is king when it comes to online bingo. They power the majority of the top brands in the UK and have also picked up our Best Bingo Software award in 5 of the 6 years we've had this category.
In addition to this award, they also scooped the gong for Best New Bingo Game – with their Age of the Gods Bingo game.
The Hots and Nots of Playtech
Pros:
A dedicated team for developing tailor-made bingo games – Playtech has devoted a team of developers who work on customised products even just for one individual licensee. This ensures that players get a unique experience even when playing on different sites on the same Playtech network.
The largest omnichannel provider of the industry – Playtech supplies massive omnichannel services that cover online, mobile, and retail. After the acquisition of ECM System, the demand for the company's retail bingo halls in the UK and Ireland has increased significantly.
Large jackpots on linked bingo games – Due to the sheer number of players on the Playtech bingo network, the linked-network jackpots for bingo games grow extremely fast and are high in value.
Cons:
Not so consistent in new game releases – Playtech doesn't consistently release new bingo games so players can sometimes be stuck playing the same games for a while.
Not that many sites under its portfolio – Even with its solid reputation and sophisticated software, Playtech games are still not as widely available as some other providers like Dragonfish and Cozy Games.
Our Final Thoughts
There are pros and cons when it comes to Playtech games, but our analysis shows that the company has more positives than negatives. While we would love to see more new bingo games released consistently, we believe that players prefer quality over quantity and Playtech certainly delivers in that department.
The beauty of Playtech-powered bingo casino is that every site is unique and gives an entirely different gaming experience even though the games are not as widely available as some other providers. With the company's consistent delivery of quality and innovative games, each new release is something that players should look forward to.
---
Other Software Providers
---