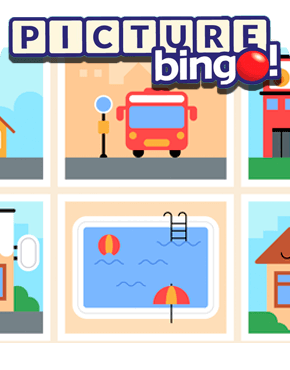 Picture Bingo
Picture Bingo is a game where the stakes are low but the prizes are well worth winning! Each bingo card consists of fifteen pictures – there are no numbers here! Match the pictures on your card to the ones drawn to win!
Unique picture matching and low stake bingo game
Play Picture Bingo at these suggested casinos
18+. Deposit from £10. First deposit only. Players are offered a 200% bonus on top of their first deposit up to a maximum of £25. The minimum first deposit is £10. For example, a player depositing £10 will receive £20 bonus money from tombola. A player depositing the maximum amount of £25 will receive £50 bonus money from tombola.Any winnings can be withdrawn. Bonus money cannot be withdrawn. T&Cs apply. Please play responsibly. begambleaware.org #AD
If you're a fan of online bingo, then you very probably know about the tombola bingo site. Indeed, it claims to be Britain's biggest bingo site and we're not about to argue with that! To enhance their status of the being the best, in 2019 they released a great new bingo game – Picture Bingo. Here is all you need to know about this fun-filled bingo game: How to play, what you need to do and all the special features that make this one of the best online bingo games around!
How to Play
Picture Bingo is a game where the stakes are low but the prizes are well worth winning! When you enter the game, you get to choose from three themes:
Mystery –enjoy a spell in a luxurious if mysterious stately home
Pirates –set sail across the seven seas in search of bounty to plunder
Circus –roll up, roll up! Enter the big top and let the ringmaster entertain you
You can select your stake from 5p up to 50p, and of course the bigger your stake, the bigger the prize you will collect if and when you win! You can buy a maximum of three tickets per game. Each bingo card consists of fifteen pictures – there are no numbers here! Match the pictures on your card to the ones drawn to win!
Special Features
Jackpot
As well as the usual prizes, there's a jackpot prize available to win, too. This starts at a tasty £1,000 and can rise and rise if it is not won for a long time. To win the jackpot, you simply need to win the game in 26 calls or less. Note, to win the full jackpot you must buy 50p tickets. If you win the jackpot with a 5p ticket, you receive on tenth of the jackpot, as 5p is one-tenth of 50p.
The prizes that can be won
The first prize that can be won is for one line, and again you only win the full amount if you've maxed out on your ticket price. If you haven't, you'll win a share of the prize depending on the amount you've spent on your ticket. The biggest prize of all (aside from the jackpot) is for the first person to mark off all fifteen pictures on their card.
Graphics and sound
It's the graphics and sound that really make this game. Each different type of game contains different pictures. For example, in the 'mystery' game all the characters are potential murder suspects (we gather there's been a dead body discovered somewhere in the mansion house), law enforcement officers and murder weapons. To solve the case, you simply need to complete your bingo card!
The pictures are not just static, which adds to the experience. Each potential murder suspect announces their selection, and every other aspect of the game makes some kind of audio contribution.
All this is banked up with suitable background music that really adds to the game experience. One line, full house and jackpot winners are all announced as you are playing the game.
Conclusion
Even the biggest bingo fanatic in the world can become a little jaded by watching numbered balls bounce and having to endlessly mark (or watch numbers being marked off on their cards if they have selected the 'auto-play' function) their cards. It there is any kind of alternative to watching numbers being drawn, surely it can only be a good thing!
This game could have been static and boring but tombola has made the extra effort to make sure that they have a hit on their hands. The whole game is kept simple and fun, which is something that really adds to the whole experience. If you get bored with one set of pictures and sound effects, you can always switch to one of the other playing styles to keep boredom at bay.
As tombola is such a popular site, you will never be short of bingo players here, and this makes for a great bingo game experience with decent prizes to be won, always. If you are not a member of tombola, then why not sign up today for a few games of picture bingo, and much more?