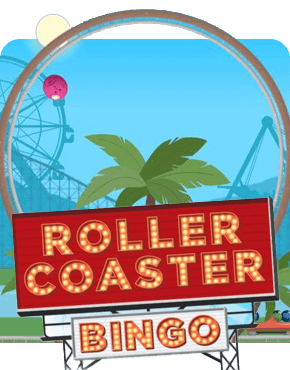 Roller Coaster Bingo
This game has been present at tombola from the start. It took a short break, has had some minor modifications and came back stronger than ever as it is now available to mobile bingo players.
Participating Rooms
The Roller Coaster room
Play Roller Coaster Bingo at these suggested casinos
18+. Deposit from £10. First deposit only. Players are offered a 200% bonus on top of their first deposit up to a maximum of £25. The minimum first deposit is £10. For example, a player depositing £10 will receive £20 bonus money from tombola. A player depositing the maximum amount of £25 will receive £50 bonus money from tombola.Any winnings can be withdrawn. Bonus money cannot be withdrawn. T&Cs apply. Please play responsibly. begambleaware.org #AD
With tombola's 40 ball game Roller Coaster, you can pick a suitable price point to suit your budget such as 10p or 50p, and you can also buy just one or multiple tickets for each game.
The room is open around-the-clock and there are always plenty of roomies online who are eager to swap gossip.
As you play, you'll become familiar with the characters that are used in place of bingo balls such as Linda and James, and the aim is to fill up your carriages with the characters' falling heads as the ride goes around the loop.
Extra prizes are up for grabs through the game's two fixed jackpots, the largest of which is worth up to £10,000.
How to Play
Once you've connected to the Roller Coaster room, you get to choose how many tickets you wish to buy. You can purchase between 1 and 4 tickets per game, and the available prices are 5p, 10p, 25p, and 50p, which means that the maximum that you can spend is capped at £2.
In the background, you can see a massive theme park, and in the centre of it is the roller coaster. Each ticket that you buy gets you one roller coaster carriage which you can see sitting at the bottom of the screen, and each carriage has space for five people.
Each time that the Rollercoaster comes around the loop, you must hope that a passenger with the same name as one of the spaces in your carriage is thrown off the ride.
The first player to fill all five seats in one of their carriages wins the full house prize.
Jackpot
Roller Coaster comes with two jackpots. They're fixed rather than progressive jackpots but they can still deliver some very generous rewards!
To win the In 6 Jackpot (which can be worth up to £1,000 depending on the amount staked), you'll need to fill your carriage within 6 calls. To win the In 5 Jackpot (which is worth up to £10,000), you must fill your carriage within 5 calls.
The Win In 6 Jackpot and Win In 5 Jackpot are worth 2,000x and 20,000x the ticket price respectively. So, if you buy a 5p ticket for the game, they'd be worth £100 and £1,000 respectively.
Graphics and Sounds
The game is cleverly designed so that all the rides are animated. For example, you can see the pirate ship swinging from left-to-right, a Ferris Wheel slowly turning, and carriages zooming along the tracks in the centre of the screen.
Some great sound effects include the riders cheering and whooping.
By default, the fairground is seen by day, but if you click the icon at the top-right of the screen, it changes to night.
When a game is underway, instead of bingo balls being announced, you have a passenger falling out of the speeding carriage who then bounces off the palm tree beneath the ride. If the character has the same name as one of the empty spaces in your carriage, they then take a seat. If not, they disappear off the screen (probably to check for bruises!)
Conclusion
It's not often that you come across a 40-ball bingo game, let alone one that's as interactive and immersive as Tombola's Roller Coaster!
It's got everything you could want from an online bingo game and more, including two generous jackpots. And as the room opens around-the-clock, you can pop in at any time of the day or night for a quick game or two.
You can only play Roller Coaster at Tombola, a site which WhichBingo is more than happy to recommend to our readers. You can find out more about the site, as well as the games, promotions, and player rewards that it offers, in our full-length review. Plus, if you sign-up today, you can take advantage of the current welcome offer!